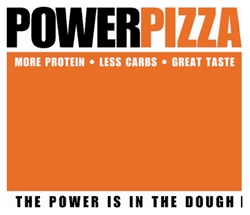 Miami, FL, September 18, 2006 --(
PR.com
)-- Have you ever had healthy pizza that tastes great? Power Pizza is the answer. Power Pizza, South Florida's first healthy pizzeria, carves out a unique niche offering a revolutionary concept, blending whey protein concentrate in their dough. This improves the nutritional value of pizza that is traditionally filled with carbohydrates.
"The difference between our pizza and the competition is that we have been able to create a product that is healthy and tastes great!" said Eugenio "EJ" Martinez Jr., President and owner, Power Pizza. "Power Pizza offers special protein in the dough as well as using the freshest and best ingredients, including Grande low fat cheese; the key to our success is that our 'power' is in the dough."
In addition to their signature protein-based dough, Power Pizza features whole wheat dough, Grande cheese and all natural ingredients in their sauces providing their customers healthier alternatives. Their approach to pizza and the other food options in their extensive menu make a significant difference in the calorie intake of their customers.
"Our mission is to offer our customers a healthy solution as they enjoy the most popular food choice in America," said Power Pizza managing partner, Eugenio Martinez. "We are committed to offering the finest quality ingredients and always striving to provide the best service to our customers and our community."
This Fall, Power Pizza will be adding two new locations in Kendall and Pinecrest, to its initial restaurant in South Miami. Scheduled to open September 15th, the Kendall restaurant is located at 8825 SW 107 Avenue. This pizzeria will employ between 10 to 15 local residents who will act as management, wait staff, kitchen staff and support staff. The Pinecrest pizzeria will be located at 8239 SW 124 Street, which is under construction and scheduled to have its grand opening later this Fall.
Owners Eugenio Martinez and Eugenio "EJ" Martinez Jr., a father and son team, both have been long-time community enthusiasts with interests in the city's economic growth. The pizza business is a people business, and Power Pizza is committed in becoming an integral partner in the communities it serves.
About Power Pizza
Power Pizza is a family-owned business, where father and son have joined forces to offer a unique proposition of a healthier pizza that tastes great. In addition, Power Pizza offers delivery & take-out service as well as family-friendly restaurants featuring a vast array of healthy options such as low fat salads, wraps, multigrain pastas, strombolis and calzones to individuals, offices and schools.
###