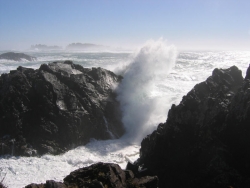 Courtenay, Canada, September 14, 2006 --(
PR.com
)-- Rising oil and gas prices may mean something positive for sellers of waterfront property in British Columbia: More sales to home buyers from Alberta. Statistics from Waterfront West indicate that, after British Columbians, buyers from Alberta are snapping up water view and waterfront vacation homes along the western shores.
According to information gathered from June 2 through September 6th from the web site
WaterfrontWest.com
, approximately 12,700 people from the world over took a look at real estate advertisements for waterfront property in British Columbia. The web site was launched in May, by online entrepreneur Sharleen K. Whiteside "The statistics as well as some polls on the site provided an interesting snapshot of the market," said Whiteside, "This information will help our clients better target their marketing efforts to potential buyers."
"Canadians are the bulk of the traffic to the B.C. waterfront property site," Whiteside said. "And although most of the traffic is from our own back yard, a good number of viewers of the site are from Alberta." Eighteen percent of potential Canadian buyers were from Alberta, as opposed to 72 percent of visitors from BC. Ontario represented the third-largest region with 4 percent. "Rising oil and gas profits may mean that more Alberta residents boast incomes that can support a vacation home," she said. Of the Albertan visitors, a staggering fifty-one percent were from Calgary.
A small percentage of visitors who visited
WaterfrontWest.com
participated in polls that may provide some insight into the real estate market as well. "The numbers are probably too small to be statistically significant but they may point to some trends that real estate brokers and investors can take advantage of," Whiteside said.
One hundred and fifty-six voters responded to the statement, "Tell us your favorite search area and define BC's top waterfront region." Buyers overwhelmingly chose Vancouver Island as their top destination, with 32.1% percent of the vote. It was followed by the Okanagan Valley with 13.5 percent, Cariboo Interior/Northern BC with 9%, Kootenays/Rockies with 7.7%, Northern Gulf Islands, Sunshine Coast and Southern Gulf Islands all with 6.4%, Vancouver/Lower Mainland with 4.5% and Central Coast to the Queen Charlottes with 3.2%.
Thirty-two visitors responded to the question, "How do you plan to use your new waterfront property?" Fifteen respondents, or 46.9 percent, answered "Vacation Home now/Retirement Later. Seven respondents, or 21.9 percent, responded "Investment for price appreciation." Six people were looking for a "Family vacation destination:" (18.8 percent), two respondents were looking for a "Primary Home" and two chose "Retirement Immediately."
One of the most interesting statistics was that despite the steep decline of the U.S. dollar, Americans are still investing in B.C. property. "Homes may be costing Americans more, but more than 9 percent of the traffic to the site came from the States," Whiteside said. The majority of the American visitors who gave a state affiliation were from California, with 26 percent of the traffic, followed by Washington with 13 percent. Surprisingly, despite the distance, Texas ranked third with 7 percent.
Potential property buyers are even eyeing B.C. from across the pond. After the U.S., slightly more than 2 percent of the visitors were from the United Kingdom and 1 percent from Germany.
###