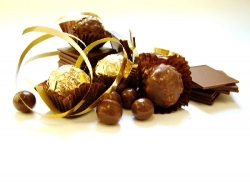 New York, NY, September 21, 2006 --(
PR.com
)-- Fads maintain the dynamics of a culture, but there are some things that never lose the novelty factor, like chocolate, for example, which seems to hold a mesmerizing grip on people's imagination and palate. However, a city like New York always demands more, better and fancier. How would one keep up with that? The New York Chocolate Tours will not only fulfil your childhood fantasies of spending hours on end in candy stores, but will also open the door to an exclusive set of high-end chocolate boutiques. Chocolate Zoom magazine launched the www.sweetwalks.com website as an informational platform for those who want to experience the upscale life of New York City and learn everything about chocolate straight from the horse's mouth, that is the European chocolatiers.
The program tries to accommodate every taste: one tour takes place into the heart of Upper East Side where one would taste fine chocolates from famous gourmet brands and a different tour would take you for a saunter in Soho where you'd get to discover the New Wave of chocolate-makers and savor some of the most unusual bonbons. On the check list there are RichArt Design and Chocolates, Fauchon, Pierre Marcolini, Debauve & Gallais and La Maison du Chocolat on Upper East Side and Vosges, Kee's Chocolates and MarieBelle in Soho, the tours taking place on the weekends.
The idea of the tours started taking shape when the editors of the specialty online magazine Chocolate Zoom realized that there's an untapped source in this niche and that there is no direct communication between the chocolate maker and the chocoholics. Angie Thollrope, a web designer and a fervent chocolate lover says that, "I am very busy and I can't afford to spend time searching for tasting events, which may or may not take place, or may be a few months apart. I found out about the tour from a friend and decided to book it on a whim, but then I found myself congregating with other chocoholics from literally all the corners of the world that Saturday. It was great fun and tasty too." The representatives of the companies are thrilled by the first results as well.
www.ChocolateZoom.com is an online magazine for chocolate lovers created by Zoom Media & Productions.
www.SweetWalks.com is an informative website about the New York Chocolate Tours created by Zoom Media & Productions.
###