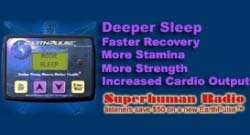 Stuart, FL, September 25, 2006 --(
PR.com
)-- "Sleep is one of the most underestimated factors in athletic performance" says Carl Lanore of Super Human Radio WKJK 1080 AM. Lanore's Super Human Radio is the world's first radio talk show dedicated to improving human performance, strength, fitness and nutrition.
"Studies show even mild sleep deprivation can cause a variety of endocrine imbalances including lowered growth hormone and IGF1 production, inability to manage blood glucose levels, increase cortisol production and alterations in the hypothalamus / pituitary / adrenal axis that can affect response time and ability to manage stress" continued Lanore.
The Sleep and Athletic Performance episode of Super Human Radio featured guests: Dr. Mark Rosekind of Alertness Solutions & Paul Becker of EarthPulse Technologies. Not surprisingly, sleep may be the single most important factor when it comes to making gains and performing at peak levels.
We learned from Dr. Rosekind that sleep deprived athletes have a reduced response time of up to 75% and that fatigue related deficits can mean the difference between a medal or a loss. Dr. Rosekind, consulted Hilton Hotels to design the perfect sleep environment in the 160 resident athlete dorms at the US Olympic Training Center in Colorado Springs. Dr. Rosekind led the Fatigue Countermeasures Program at NASA's Ames Research Center, and prior to NASA directed the Center for Human Sleep Research at Stanford University Sleep Disorders Center. He detailed steps to understanding just how much sleep you need for peak athletic performance, how to get the most recuperative sleep during the time spent in bed and the detrimental effects of not
The last portion of the show featured Paul Becker product developer of EarthPulse™ Sleep on Command™ technology who explained how pulsed electromagnetic fields can induce a deep level of sleep that aids in recovery. He explained that the central nervous system responds to electromagnetic fields similarly to other rhythmic stimuli, and that by exposing the body to sequentially slower frequencies of stimuli acts like a metronome causing the central nervous system to synchronize to it and relax.
Host Lanore pointed out evidence provided by a watershed NASA study that pulsed electromagnetic fields reverse muscle wasting and increase bone mineral uptake. In response, Becker said that pulsed electromagnetic fields can also increase saturated blood oxygen (SAO2) and discussed how his athletic clients use the EarthPulse™ technology for better sleep and to aid in their training and recovery.
To hear the Sleep and Athletic Performance episode of Super Human Radio visit http://www.earthpulse.net/superhumanradio.htm where you can save $50 on a new EarthPulse™ v.4.2 or go to our homepage to browse an extensive database of more than 30 years of pulsed electromagnetic field (PEMF) journal studies and see amazing video case studies. EarthPulse™ and Sleep On Command™ are trademarks of the inventor Paul F. Becker.
About EarthPulse™ Technologies:
EarthPulse Technologies, LLC is a privately held biotechnology company specializing in the use of very weak electromagnetic fields to induce deep recuperative sleep and enhanced mental and physical performance. Clients range from top ranked Girls Junior Tennis to men and woman in their 80's. The company develops and manufactures in Bangalore, India and has thousands of satisfied clients in 15 countries.
Media Contact:
Paul F. Becker, Product Developer / Managing Partner
paulbecker@earthpulse.net
+1.772.408.6100
http://www.earthpulsetechnologies.com
PEMF research, EarthPulse® video case studies and client feedback are not intended to infer the use of our device as a product to eliminate disease or other medical conditions. This information has not been evaluated by U.S. Food and Drug Administration or by any other governmental health agency. Worldwide, there are no governmental health agencies that recognize a need to supplement natural magnetic fields. EarthPulse Technologies LLC makes no medical claims as to the benefits of their device and methods. EarthPulse™ is strictly a performance enhancement tool guaranteed to substantially improve sleep and performance regardless of condition within a few weeks. EarthPulse™ not intended to diagnose, treat, cure or prevent any disease.
###