New Antimicrobial Product Creates a Dynamic New Way to Reduce Harmful Germ Transfer
Portland, OR, December 18, 2009 --(
PR.com
)-- Skoji, LLC. of Portland, Oregon has unveiled its new antimicrobial Managed Hygiene™ product designed to assist in interrupting the germ transfer process with a decorative style to go with any décor or individual taste. The product has a variety of uses from cell phone covers to small electronics to door handles – all in all, the product helps keep germs from attaching to the covered item. With an antimicrobial surface, the product provides "A safer way to go™" and a dynamic new way to improve hygiene practices (Managed Hygiene™) … the Skoji™ way of providing protection through germ warfare.
The stylish and simple product design along with the Antimicrobial application, bright and fun packaging and market positioning is the result of a well thought out concept with over two years in development. The primary goal was to design a product that would ultimately shed light on the importance of good hygiene. Their secondary goal was to create an exciting and fun appearing package to serve as a catalyst to increase the knowledge and awareness of bacteria and germ transfer and how the product can serve as an important hygiene tool. Managed Hygiene™ is essentially the Skoji™ way of implementing protection through germ warfare.
The company product line includes Skoji™ Door Socks™, Gorillos™ and Door Condoms™ product lines to appeal to the likes of a variety of other markets - all with application sizes for door knobs and door handles. In addition, Skoji™ is also introducing Gorillos™ Cell•Pocs™ for the mobile cell phone market, Gorillos™ E•Pocs™ for the small electronics market and XTA™ Pouches for all the extra use applications of the product. Private label for all product lines is available upon request with custom product stitching as well as custom packaging options within the Skoji™ brand.
The Skoji™ brand trademarked shape is recognizable as a symbol for healthier hygiene practices and enhances product use for private label programs through the presence of this strong identity. There is specific packaging for private label designed for use in various markets, although any existing product line can be used. Organizations may also request new artwork to be created within the Skoji™ brand trademark shape at no additional cost as well as customizable logo stitching that appears on the product itself. More information is available at www.skojilife.com. The Skoji™ brand offers a catalyst to increase their brand recognition through the Skoji™ brand.
Along with the products' seriousness is a stylish approach designed to increase hygiene awareness and the importance and benefits of using the product. The many decorative styles available offer the homeowner, office personnel, campus dorm tenants, etc. a product to blend in or enhance the décor of any space. It's basically a beneficial, green and healthy product with an element of décor that "Turns on function™.
The company's ultimate goal was to develop a unique product that was directed solely at improving human hygiene. With the primary focus of Managed Hygiene™ can prove to be beneficial in the interruption of the transfer process needed by harmful bacteria, germs and other contaminates to spread and survive.
At Skoji™ we focus on developing and creating products that are simple, fun, easy to use and provide a solution that improves your well being while at the same time is a clean, re-usable, and a green product for the environment. The antimicrobial application manufactured by Aegis Environments consists of a non-leaching application which makes it an environmentally safe product. The Skoji™ brand of products currently consists of door, mobile and personal hygiene products with ongoing research and development. The company has plans to continue building the Skoji™ brand with additional products for beneficial living in the works.
Patent Pending.
For more information, visit www.skojilife.com.
Contact: Press Release Department at 888-878-0801
Skoji, LLC.
818 SW 3rd Ave.
Suite 388
Portland, Oregon 97204-2405
Tel: 888-878-0801
Email: Info@skojilife.com
###
Contact
Skoji, LLC.
Greg Plummer
888-878-0801
www.skojilife.com

Contact
Multimedia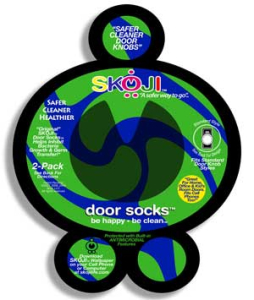 The company product line includes Skoji™ Door Socks™, Gorillos™ and Door Condoms™ product lines to appeal to the likes of a variety of other markets - with sizes for door knobs and door handles. Skoji™ also has Gorillos™ Cell•pocs™ for cell phones and E•pocs™ for small electronics and PDA's.