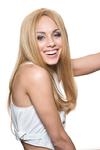 New York, NY, December 29, 2009 --(
PR.com
)-- Rodolfo Valentin Salons has recently experienced an increase in requests for Brazilian treatment for hair. Their hair stylists are currently performing dozens per day. This treatment has no harsh chemicals on its components, and the cost is low comparable with other similar treatments. The main ingredient of the Brazilian treatments is "keratin," a natural substance derivative from human hair itself, which Rodolfo Valentin Salons states is the reason why Brazilian treatment can be used also for children over 6 years of age. Further, they state that this treatment does not use heavy substances to open and close the fragile hair cuticle, and does not break the bonds of the hair shaft like other straightening products do.
Previously relaxed, highlighted, bleached, colored or permed hair can benefit from the results of this product. It goes through the hair restoring interior damage and preventing additional damage by coating the hair safely, without causing further damage.
The treatment does not last forever, and with time, will fade out, allowing the curl to slowly return. It lasts approximately 3 months at most. It is practical to repeat the treatment periodically, since the more this treatment is used, the better the hair will look and the better the hair texture feel to the touch and in appearance.
Japanese thermal relaxers are another but more expensive option that last longer.
This unique treatment will make hair very manageable and the blow dry process will be faster.
Rodolfo Valentin salons located in the heart of the glamour of Madison Avenue in New York City and the Long Island Beauty Salon and Spa in the south shore of Long Island perform dozens of brazilian treatments per day.
http://rodolfovalentin.net/salon/braziliantreatment.html
http://rodolfovalentin.com/rv/rv.htm
###