One Person Connects Thousands of Medical Assistants Across the Country Daily
Meet Danni, better known on the Internet as "Danni R." Danni is no stranger to thousands of medical assistants coast to coast and well respected among her peers. She does it through her network of web sites dedicated to all interested in the medical assistant profession.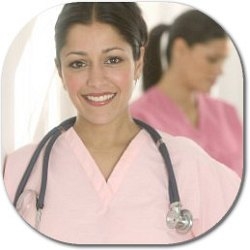 Chicopee, MA, October 27, 2006 --(
PR.com
)-- However, even those who are merely contemplating a possible career in this field are very likely to surf in to one of her web sites when they explore this career on the Internet. Her sites are easily found on the Internet by simply doing a Google, Yahoo, or MSN search. And when they come to her web sites they will find just about all the answers they seek to determine whether a medical assisting career is for them.
Danni is very serious about her work and loves what she does! She knows the profession first hand and she speaks to them through her career focused web sites. In her capacity as a Certified Medical Assistant in all clinical and administrative areas she has worked side-by-side with other medical assistants and then taught the medical assistant curriculum at different schools in her community leaning even more about her peers. However, today she no longer applies her knowledge and skills in the medical office or classroom. She has found a new career and direction and uses her special talents to reach thousands of medical assistants through her online work.
When asked, she will tell you that in her capacity as a certified medical assistant she taught the medical assisting curriculum in all clinical and administrative areas at well known vocational training institutions in her community and will quickly add that it is this background combined with her talents as a graphic artist and web developer that makes her work so successful on the Internet! For her relentless efforts she was honored with several awards, among them the Online Mentor Award, Online Instructor Award, Century Teacher Award, and the Millennium Educator Award from UniversalClass.com.
It goes without saying: all her web sites serve a specific purpose, which is to provide the medical assisting community the resources they need and seek to become successful students and professionals in this highly rewarding field. It's hard to imagine that just a few years ago, while the Internet already abounded with web sites created by and for doctors and nurses there were virtually none for medical assistants. Fortunately this has changed. Danni recognized the need and took it on to herself to publish the first web sites dedicated to medical assistants on the Internet.
Two of her most popular web sites dedicated to Medical Assistants are
Medical Assistant Net
and
Advanced Medical Assistant of America
respectively. Both these web sites are listed at the very top search results of major search engines and are referenced as today's premier informational and educational career guides for medical assistants. These web sites alone serve thousands new and returning medical assistants each month, not to mention the rest of Danni's web sites, blogs, and web forums.
###
Contact
Advanced Medical Assistant Custom Web Design, LLC
Danni R.
413.592.3094
www.advancedmedicalassistant.com

Contact