California Errands Offers Time Saving Personal Concierge Services to Busy Professionals and Businesses in the San Diego Area
California Errands is the newest personal concierge and errand running service for busy professionals in the San Diego area. California Errands offers time saving solutions for those struggling to balance the demands of both work and personal commitments.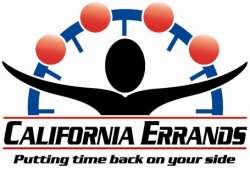 San Diego, CA, November 09, 2006 --(
PR.com
)-- Personal concierge services run on the most basic of premises. People want things done but don't have the time to do them. Now people have the option to outsource these tasks and have them completed efficiently and with a touch of class. California Errands handles a variety of requests and can tailor its services based on the customer's needs. Common requests include grocery and gift shopping, collecting quotes for a home repair project and taking the car for an oil change. "We're in the business of helping people gain a balance between work and life. Not everyone should have to spend their free time running around town doing errands or feel guilty about not getting everything on the chore list accomplished," says Andrea Ullrich, President of California Errands. California Errands' services are also a great enhancement to a company's benefit package. 39% of Fortune Magazine's "100 Best Companies to Work For" already offer similar services to their employees.
Whether you're a millionaire corporate chairman or a single mom with two jobs, everyone has had too much to do and not enough time to do it all. Count on California Errands to help tackle those hectic schedules so that weekends can be spent with friends and family again and not in line at the supermarket. California Errands charges per hour of service and also offers discounted monthly packages.
To learn more about how California Errands can help you or your business, call today at 858-909-9038 or visit www.californiaerrands.com.
###
Contact
California Errands
Andrea Ullrich
858-909-9038
www.californiaerrands.com

Contact