CHaINA: a New China Supply Chain Focused Magazine Launched in Shanghai
CHaINA magazine, the first-ever magazine dedicated to covering global supply chain management issues from a China perspective, was launched late last week at the China Supply Chain Council's annual CHaINA conference held in Shanghai. Given the key role China plays in most company's global supply chains, CHaINA magazine is already being touted as the "must-read" magazine for global supply chain professionals.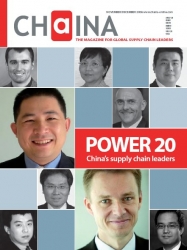 Shanghai, China, November 13, 2006 --(
PR.com
)-- CHaINA is a magazine for global supply chain leaders with a key difference: it is the first-ever English language magazine dedicated to covering global supply chain issues from a China perspective.
The reason for launching a magazine aimed at global supply chain leaders to be China-focused is simply that no other country is driving the global supply chain to the same extent that China is. Nine out of ten midsize and large overseas manufacturers now do business there. Furthermore 82 percent of these manufacturers cite China as their number one source for low-cost country sourcing and 94 percent said they will maintain or increase dependence on the country in the future. And so if your company's global supply chain doesn't include China, then you probably have to ask yourself why?
Because most companies' global supply chains start in China – in the World's factory – there exists a tremendous need globally for accurate information and clear analysis on China supply chain issues. CHaINA magazine satisfies that need.
The magazine was launched last week at the China Supply Chain Council's annual CHaINA conference in Shanghai. When asked about the magazine's overall editorial mission, CHaINA's publisher Michael Pennington said, "The magazine has one very simple goal, and that is to enable supply chain professionals to be able to do their jobs better. We aim to do this by providing our readers with information on China's supply chain that is both comprehensive and up-to-date, so they can stay one-step-ahead in the increasingly competitive and dynamic global supply chain."
The magazine is being launched in cooperation with the China Supply Chain Council and alongside Accenture, JPMorgan Chase Vastera International Trade Consulting, Kerry EAS Logistics and ProLogis, one of CHaINA magazine's founding sponsors. Mark Millar, Chairman of the China Supply Chain Council and Director of Strategic Business Development for UPS Supply Chain Solutions, said, "CHaINA magazine will help us to ensure we are at the leading edge of optimizing our supply chains - both into, and out of, China."
CHaINA magazine is aimed at supply chain professionals at manufacturers, wholesalers, retailers, and for those that are actively involved in providing services to and finding solutions for companies involved in supply chain management. The magazine is distributed by direct mail free-of-charge to management-level supply chain professionals in China, Hong Kong and Singapore. Such a distribution model ensures the magazine's target readers are able to receive the magazine easily, and on time. It's possible to register for a free subscription through the company's website. There are also a rapidly growing number of paid subscribers in other parts of Asia, the United States and Europe.
Michael Pennington went on to say, "The majority of our writers are based in China, with the magazine's editors based in Shanghai, China's economic powerhouse and the center of the global supply chain. Being China-based enables us to be able to cover the end-to-end global supply chain from a perspective that is uniquely relevant."
###
Contact
CHaINA
Michael Pennington, Publisher
+86 138 1897 6097
www.chaina-online.com

Contact