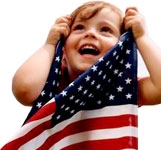 New York, NY, August 11, 2005 --(
PR.com
)-- Caring Pals USA is a non-partisan, non-profit organization. Caring Pals USA (caringpals.us) is not affiliated with any particular political or religious group or organization, and is dedicated solely to helping kids in America. Caring Pals USA is made possible by a network of volunteers and sponsors, that we call the "Community of Care." It is an exciting, new and unique community populated by people like you.
Caring Pals USA supports programs with proven and documented effectiveness that provide medical research, medical care, housing, educational programs, mentoring, and otherwise help feed, cure, shelter, educate, nurture, and protect kids in America. Caring Pals USA does this by evaluating organizations throughout America, verifying the effectiveness of their programs, verifying that 75% or more of the organization's income directly funds these programs, and then promoting the organizations and enlisting support for them via the Caring Pals USA newsletter, and our organized activities, including the Street Team Program and Performing Arts Project.
The idea for Caring Pals USA came from a number of current and former fundraisers for other organizations. These fundraisers hit the streets daily raising money to help needy kids around the world. Some you may have met on the sidewalks of large cities, such as New York, Philadelphia, Boston, San Francisco, Dallas, Los Angeles and Miami. Face-to-face fundraising - though still in its infancy in America - has proven to be very successful. Charitable organizations such as Save The Children, Care, Plan International, and others all make significant use of this popular style of fundraising. And Caring Pals USA applauds these organizations and the caring individuals whom have helped so many kids worldwide by their fundraising efforts and tremendous success on the sidewalks of America! Time and time again, these fundraisers were questioned about helping the children in our homeland - where one in six is starving. And where others are homeless, without necessary medical care or uneducated. And so, the idea to create a new non-profit (501 C-3) organization to help needy kids in America was born.
For more information visit www.caringpals.org
To apply to be a caring Pals USA Rep, visit http://www.caringpals.org
###