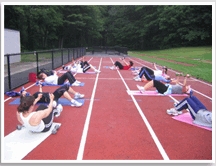 Lynnfield, MA, June 14, 2010 --(
PR.com
)-- Area women have a new choice for getting in shape. Lynnfield Women's Boot Camp announces its new four-week boot camp, a fun, affordable, and comprehensive program designed for women of all fitness levels. The current session started on Monday, June 7th, with additional sessions starting every 4 weeks thereafter.
Lead and owned by certified personal trainer Rebecca LeSaffre, Lynnfield Women's Boot Camp is designed to help women build muscle, burn fat, increase strength and metabolism, and improve overall health in a fun, encouraging, and supportive environment.
To help optimize results, it mixes interval training with strength training with each boot camp session being different from the others.
"Don't be intimidated by the program being called a boot camp," explains LeSaffre of Melrose. "The program is developed for all fitness levels. Each session begins and ends with an evaluation of your fitness and objectives so you can monitor your progress. And since this is a women-only program, you'll enjoy the camaraderie and support from other motivated women as you work toward your individual goal. Plus, people work a bit harder when they are part of a group. And, of course, no makeup, no problem."
Here is what 2 of the Lynnfield Boot Camp Members had to say about Lynnfield Boot Camp:
"Rebecca and Jen were so supportive, understanding and amazing at "B" kicking exercise. You know how to deliver results!" Denitza M
"Rebecca is always encouraging, continually changes up routines so you are not bored with a "typical" workout and always pushes you to your next level of fitness. If You commit to get fit, Rebecca is the person to work with to get you there." Nancy J
Rebecca LeSaffre is an American College of Sports Medicine (ACSM) Certified Personal Trainer, a National Exercise and Sports Trainers Association (NESTA) Certified Fitness Nutrition Coach, a NESTA Certified Outdoor Fitness Trainer, and an SCW Outdoor Fitness Boot Camp Instructor. As a certified personal trainer, Rebecca is educated in fitness and brings her clients an understanding of how the body works. She is qualified to assess what types of exercises will be most beneficial for meeting personal fitness goals, while also helping assure that you use proper form for maximum results and injury prevention. Rebecca is a well-known trainer at several local YMCAs. She also leads Lynnfield Community Schools' Weight Loss Challenge Program.
The current session of the boot camp started on Monday, June 7th and ends on Friday, July 2nd, taking place on Monday, Wednesday, and Friday mornings from 5:45 a.m. to 6:45 a.m. at the Centre Congregational Church at 5 Summer Street, in Lynnfield. Additional sessions start every 4 weeks thereafter. Choose from a 2-day session (Mondays and Wednesdays) for $99 or a three-day session (Mondays, Wednesdays, and Fridays) for $149. To register online, go to www.lynnfieldbootcamp.com or call Rebecca at 781-665-0343.
###