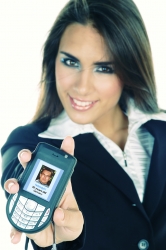 Bad Camberg, Germany, December 19, 2006 --(
PR.com
)-- The Internet portal Partnerexchange24.com now offers Singles a new world-wide communication platform. The absolute world-wide innovation is: this service may be used anywhere with any mobile phone with a WAP-based Internet access. For this purpose, www.partnerexchange24.mobi has provided via the Internet a dedicated portal specifically designed for use with mobile terminals.
Nearly every modern camera mobile phone has a WAP interface, but up to now only a few users have made use of it, because of the lack of interesting applications. "Our portal makes use of the function which camera mobile phones are, by their nature, best suited to – namely to display photos," explains Thomas Moos, owner of Partnerexchange24.com. "According to a recent BITKOM-survey almost every tenth German is looking for the dream partner via the Internet. Now, using our portal, they can carry out a search on their mobile phones even while waiting at the bus-stop, and so they can find their ideal partner more quickly."
Partnerexchange24.com sees itself as the global platform for everyone looking for a partner. The Internet-portal is multi-lingual and the access by mobile phone can be in German, English or Spanish. The user interface is kept as simple as possible, making it very easy for anybody to use their camera mobile phone for finding their dream partner. You can either view the newest members, or search existing profiles using specific criteria. Any search "hits" may be directed – with no charge – to one's own email address or to a friend.
From your PC at home Partnerexchange24.com offers a number of additional functions for contacting other users: Videochat, an anonymous mail system, own blogs, etc. Registration with the Internet offer of Partnerexchange24.com and the Free Member membership including the most important basic functions is free of charge. New members may also use the extended services for Premium-Members, which is normally available at a monthly charge of € 29.00, for three days at no extra charge and without any obligation.
About Partnerexchange24.com:
Partnerexchange24.com is a global platform for people looking for partners and distinguishes itself from other offers by its innovative approach and features. The portal offers, for example, a personal access – via www.partnerexchange24.mobi for mobile terminals and may, therefore, also be used with a WAP-camera mobile phone.
www.partnerexchange24.com
###