Spectra Magazine Giving Away Amazon Kindle in Flash Fiction Competition
Spectra Magazine is a digitally distributed sci-fi, horror and fantasy short fiction publication, and is giving away a brand new Amazon Kindle as first prize in its launch issue's flash fiction competition.
Huddersfield, United Kingdom, August 17, 2010 --(
PR.com
)-- Spectra Magazine launches on the 1st September across the entire range of digital reading platforms, and has announced an inaugural flash fiction competition in the run up to the first issue.
"Spectra is a unique experiment in publishing, as we're going entirely digital with our sci-fi, horror and fantasy short fiction magazine," says editor Spanner Spencer. "Alongside promoting new literary talent and helping to bring established writers to the new digital platforms, we're keen to promote the changing concept of how written content is delivered to readers."
As part of this digital publishing promotion, Spectra Magazine is offering a new Amazon Kindle to the winner of its inaugural flash fiction competition. The magazine is scheduled to launch within days of Amazon releasing the highly anticipated redesign of its flagship e-book reader, which will be one of the primary platforms to carry the magazine.
"Flash fiction suits the Twitter and Facebook generation perfectly, and we wanted to offer a prize in keeping with the digital realm Spectra is exploring," Spencer continues. "We were immediately seduced by the charms of the Kindle's redesign, and knew this was the perfect prize to celebrate both digital reading, and the launch of our magazine."
Entrants are required to submit their flash fiction entries via the Spectra Magazine website no later than September 24th. The competition requires aspiring flash fiction writers to create a new thread on the Spectra forums, and begin their 60 word micro-stories with the opening line:
"A sudden echo from the corridor said this place wasn't deserted after all."
The winner will be announced shortly after the deadline, while "the best of the rest" - who don't win the top prize of the Amazon Kindle - will be published in a special section of the next issue of Spectra Magazine.
The competition rules are as follow:
1. Be as awesome as you like, but please bear Spectra Magazine's writer's guidelines in mind: http://spectramagazine.com/guidelines.
2. Criticism of another person's submission must be constructive. Spectra will take into account entrants' overall conduct in the competition.
3. One entry per account and one account per person.
4. Submission be entirely the writer's own, previously unpublished work.
5. Writers should be as wildly imaginative as they can. Be funny, be sad, be scary or just downright weird.
Competition entry:
http://spectramagazine.com/10387/spectra-magazine-issue-1-competition-win-a-new-kindle/
About Spectra Magazine
Spectra Magazine is a digital-only science fiction, fantasy and horror short fiction publication, specifically for e-readers and soon to be available from a range of popular eBook stores, including the Apple App Store, WH Smiths, Amazon, Kobo, OmniLit and the Android Marketplace. The magazine is a collaboration between the interactive narrative design company, Pure Square Go, and the book, e-book and audio book publisher, Andrews UK.
Contact editor, Spectra Magazine
Web: http://spectramagazine.com
Tel: (+44) 7913 148613
Email: editor@spectramagazine.com
###
Contact
Spectra Magazine
Spanner Spencer
(+44) 7913148613
spectramagazine.com

Contact
Multimedia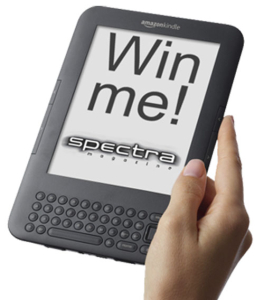 Spectra Magazine and Amazon Kindle, first prize in flash fiction competition.