Michael Ricks of Windermere Real Estate Becomes the Exclusive Agent for Celebrity Owned Home on Eight Acres in the San Bernardino Mountains, Listed at $1,650,000
Celebrity home currently owned by a writer & actor and once owned by Bella Lugosi. Eight acres of pristine forest located in the San Bernardino Mountains is being sold with a real Log Home. Michael Ricks with Windermere Real Estate is the agent representing the seller.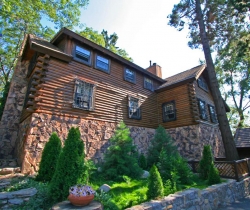 Lake Arrowhead, CA, January 05, 2007 --(
PR.com
)-- Windermere Real Estate has confirmed that Michael Ricks a Realtor has been chosen as the agent to represent the seller, an accomplished and well known actor and writer. Ricks said the property is truly a unique home never before on the market and is perched in the San Bernardino Mountains near Lake Arrowhead. The land was also once owned by Bela Logosi, the original Vampire, according to the seller, who wishes to remain anonymous. Mr. Logosi sold the property before building because his bride did not appreciate the beautiful mountain area and back then the property was difficult to get to, you can only imagine what the journey must have been at that time, the current owner went on to say.
The seller was living in Bel Aire when he bought the property as a romantic escape for his beautiful wife and himself from the smog, heat and hustle bustle of Hollywood, says Michael Ricks. Over time they created a writers paradise and what can only be described as a nature lovers dream with lush gardens featuring a pond and fountain surrounding an enchanting two story and true log home built in 1981, a charming guest cottage by a meadow was added to the property in 1997.
I have never seen views like these, set your eyes for stunning and treat yourself to the incredible and unmatched views of Catalina Island, Los Angeles, the Gabriels, Lake Gregory and the Mojave, explained Michael Ricks. It is so beautiful to enter total seclusion on approximately eight acres of pristine forest as you navigate a private road that traverses the property and forest, the main gate is electric and activated by remote. Also there is income produced from this property from a radio repeater tower on a remote and out-of-site peak, with potential for more. One side of the property backs up to the national forest. It is seldom that we see such a meticulously maintained enchanting home that I believe is truly one of the last of unique places on the Mountain to hit the market. Viewing this extraordinary property requires a generous amount of time as the details and interesting architectural features will take time to explore and appreciate, said Ricks.
This is the kind of investment we are often asked about. The property could be kept whole or divided into eight one acre parcels. The location: San Bernardino Mountains, 90 minutes east of Hollywood, 75 minutes west of Palm Springs. You can choose to enjoy this home as a winter wonderland with the many proper fireplaces blazing or a summer getaway with all the windows open and cool gentle breezes, you'll find this home near Lake Arrowhead and far from ordinary.
Michael Ricks is a Graduate of the Realtor Institute (GRI) Real estate transactions have become increasingly complicated and require real estate practitioners to perform at an ever-increasing level of professionalism. The GRI program has helped the best and the brightest in the industry achieve that level of understanding. Ricks is also an Accredited Buyer Representative. The ABR designation is awarded by REBAC to those Realtors who have met the specific educational and experiential criteria needed to provide the high level quality service required by REBAC (Real Estate BUYER'S AGENT Council). Less than 5% of all Realtors nationwide have achieved those credentials.
###
Contact
Winderemere Real Estate
Michael Ricks
760-409-1669
www.michaelricks.com

Contact