Is Your Company Prepared for the Upcoming Talent Pool Tsunami?
If you can envision today's applicant pool being emptied by over 65 million of our current workforce, over the next 10 years, then you know there are many workplace issues ahead. Baby Boomers are again making an impact, now, as they begin to leave the workplace and move into retirement. Workforce Readiness Workshops, Inc. can help with a timely, three hour, interactive and informative workshop for, "Solutions and Strategies to. . . 'Attract, Retain, & Motivate,' your human capital talent."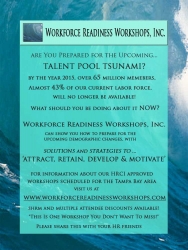 Tampa, FL, January 12, 2007 --(
PR.com
)-- Attracting new talent is already a challenge for most employers, and unfortunately, it's not going to get any easier. Alternative sources to finding quality candidates must be explored for a company to stay competitive.
In order to prepare for these upcoming changing demographics, employers will need to seek more creative methods of attracting, retaining, developing, and motivating their employees.
Partnering with educational institutions, attending school job fairs, providing on the job training programs, internships, or developing an Executive Training Program are only a few of the ways to counteract the challenges of a talent search. Find a recruiter who is industry savvy! Take advantage of all of those Internet resources! Make sure your website is applicant friendly! And, by having an internal referral program, an organization can utilize one of its best resources, its current staff.
In order to reduce turnover and retain quality talent, employers will need to create an environment where the employees know they are valued. A common denominator amongst the winners of last year's Tampa Bay's Employers of Excellence program were the elevated levels of commitment to their employees.
Staff development is essential for the growth of any organization. Whether you utilize an in house trainer, or the services of an outside professional, the National Association of Manufacturers' 2005 Skills Gap Survey recommend 3% of payroll be dedicated to training and development. Providing leaders with the skills they need to coach, mentor and inspire the staff will also help build the foundation to enable the development and implementation of a successful succession plan. And, don't forget to include those Baby Boomers as mentors…they are not going to be around too much longer.
Whether it is a recognition program, a company outing, or time off, survey your employees to discover what is important to them, and ultimately motivate them. The needs are different for each environment, and conducting an internal survey of employees will help uncover what is important for each unique environment.
"Overcoming the lack of skilled workers in the workplace will increasingly become the responsibility of companies themselves," states Harriet Hankin in her book, 'The New Workplace.'
These are only some of the steps companies will need to take to prepare for these upcoming demographic changes in the workplace!
Workforce Readiness Workshops, Inc. Human Resources certified workshops are conducted throughout Florida and are currently scheduled in the Tampa Bay area, to help organizations prepare for the upcoming Talent Pool Tsunami!
###
Contact
Workforce Readiness Workshops, Inc.
Beverly King, PHR
813-882-6579
www.workforcereadinessworkshops.com

Contact