NiteLites of Atlanta Landscape Lighting to Provide Homeowners Free Tips on Bringing Outdoor Areas to Life at the 13th Annual Atlanta Garden and Patio Show
NiteLites of Atlanta, the Landscape Lighting Professionals, will be available to demonstrate their outdoor lighting products at the 13th annual Atlanta Garden and Patio Show. The show will be held at the Cobb Galleria January 25 – 28.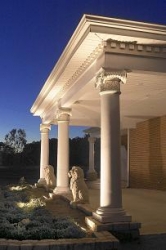 Atlanta, GA, January 15, 2007 --(
PR.com
)-- NiteLites of Atlanta, the Landscape Lighting Professionals, will be available to demonstrate the latest products and techniques in landscape lighting at the 13th annual Atlanta Garden and Patio Show. The show will be held at the Cobb Galleria January 25 – 28, 2007. Show hours are 10:00 am -6:00 pm on Thursday; 10:00 am – 8:00 pm on Friday and Saturday; and 10:00 am – 6:00 pm on Sunday. Admission to the show is $ 10.00. Admission for children ages 6 – 12 is $ 3.00. Children under 5 are admitted free. The show will feature 20 fully landscaped gardens. For more information on the show, visit www.atlantahomeshow.com. While attending the show, please visit Joe and T. J. Pantano and their staff at the NiteLites display in booth # 901. They will be happy to show their beautiful array of houses and landscapes enhanced by the installation of a NiteLites outdoor lighting system. In addition, they will discuss the benefits of NiteLites specification grade low voltage lighting systems from NiteLites to light up any outdoor area.
NiteLites is an industry leader in the production and installation of low voltage architectural lighting for both residential and commercial lighting applications. NiteLites proprietary line of copper and brass fixtures provide an inviting application of light on any project. NiteLites provides a variety of low voltage lighting fixtures including outdoor lights for architectural lighting, landscape lighting, as well as lighting for patios, gardens, decks, pathways, and submersible lighting for fountains and ponds. In addition, NiteLites outdoor lighting designers create many different lighting effects for entryways, club houses, pool areas, municipalities, businesses, restaurants, public facilities and parks, apartment complexes, town homes, condominiums. Some of these outdoor lighting techniques include:
Moonlighting -- By locating lights 14 to 16 feet up in the branches of taller trees and angling the light upward, a romantic moonlight effect is created.
Up lighting -- Shining a light up from the ground into the branches of a tree to accentuate the shape of the tree and to highlight its foliage.
Accent and spot lighting -- To add drama to a landscape or to focus attention on a specific architectural feature of a home by shining an intense spotlight on it.
Path lighting -- Placing fixtures at a low level to make walking on a garden path safer.
Wash Lighting-- Installing a light at the base of a wall or hedge to wash light over the surface, creating a soft glow effect.
Silhouetting -- By positioning lights behind and below an object, a distinctive silhouette is produced.
Spread lighting -- Hiding lights in low-lying landscaping and ground cover causes the lighting to "spread" which emphasizes the textures and patterns of the plants.
Stop at the NiteLites booth, # 901, to register for a free demonstration. See the results of a NiteLites system before investing anything. By taking advantage of the evening demonstration, the client will know exactly how the property will be illuminated and accentuated. A NiteLites designer will work to design a lighting application that reflects a client's personal tastes and fits a budget. NiteLites will also provide an accurate cost estimate for the finished installation. There are no surprises with the NiteLites lighting system. In addition, NiteLites offers a 5 year warranty on all fixtures, and a comprehensive maintenance program that eliminates any worry about cost, material, or labor required to maintain an outdoor lighting system.
NiteLites of Atlanta maintains membership in the Better Business Bureau of Atlanta, www.atlantabbb.org.
For more information about NiteLites landscape lighting systems, visit www.nitelites.com or contact Joe or T. J. Pantano and their staff at 843-815-6208, or toll free at 1-866-NITELITES. For information about a NiteLites franchise, please call 1-866-NITELITES, or visit the NiteLites website. Franchise opportunities are currently available in many major cities.
###
Contact
NiteLites of Atlanta Outdoor Lighting
Al Bombick
843-815-6208
http://www.nitelites.com/Atlanta

Contact