Tiffany Pulvino Releases Her New Series Titled Counter Life
Tiffany Pulvino, a Los Angeles-based actress has ventured into writing and producing her own content; her first in a proposed slate of projects, Counter Life, is now a series whose first episode has been distributed on web and DVD.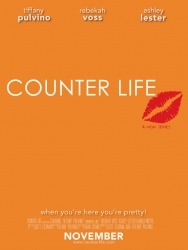 Los Angeles, CA, November 14, 2010 --(
PR.com
)-- Worship Me is the first released episode of the new series, Counter Life, written and co-produced by Tiffany Pulvino based on her own experiences. Seeking to both generate her own material and broaden into writing and producing roles, Pulvino self-started her own production and oversaw every detail of Counter Life's premiere installment, from the concept to treatment, screenplay, casting, hiring the crew and equipment, and all aspects of post-production.
Born in the New York outerborough Staten Island, Tiffany Pulvino grew up with strong Italian-American roots from Brooklyn parents as she is one of four very creative children from an immigrant family. As a child, she often performed in school plays and has studied dance for most of her life. She has always enjoyed performing and being the "star of the show." After indie successes on the East Coast, she moved to Los Angeles to further pursue her bigger passions in television and film. To date, she has worked in over 20 films, 10 TV shows and three national commercials. Her latest national commercial was for Neutrogena. With the ability to do accents from across the globe and span the looks of nearly all cultures, she is at once a diverse but wholly natural talent who can play almost any part in a 20-year age range - not only that, but she brings a producer's mentality to every project.
She often says that she is fueled by passion, and acting helps to share that passion with the world. To illustrate that, Pulvino has expanded her horizons by appearing in films both in NY and LA, guesting in several short films, and providing voice-over for animation, her most recent project was the animated feature, Dox E. Dog. For Pulvino, her 24-hour-a-day energy and determination to continue to win coveted parts and generate her own materials means that she is an artist to be reckoned with for many years to come.
Going one step ahead, she wrote and co-produced what has been positioned a pilot for her own series, Counter Life which is derived from Pulvino's own observations in LA-area department stores.
Worship Me, the first installment of Counter Life, is now streaming live on IMDb and is a new DVD release.
www.imdb.com/title/tt1747977/combined
###
Contact
Scott Essman
917-751-8834
http://www.imdb.com/video/wab/vi856201497/

Contact