UK Barter Site Goes Live, SmartBarter.co.uk
A new UK Barter website has gone live, SmartBarter.co.uk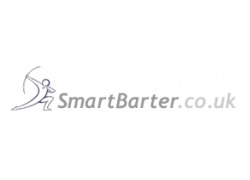 Aberdeen, United Kingdom, January 22, 2007 --(
PR.com
)-- SmartBarter is a brand new concept in online trading, launched in January 2007. It combines the functions of an online trading community with the innovation of a barter site. SmartBarter is aimed, primarily, at small businesses and sole traders although it is also envisaged that individuals and corporations may join. Goods and services of all kinds can be bought and sold through the site.
SmartBarter offers an economic means for businesses to enhance their web presence, utilise surplus stock and extend their business networks. Members can trade with each other using BUCs (Barter Units of Currency) and get a mini web page and unlimited catalogue entries to advertise their goods and services. After paying an annual subscription, members receive a voucher for BUCS (like loyalty points) which they can then use to trade with others immediately.
Unlike other barter sites, SmartBarter also offers the facility for members of the public to browse the catalogue of traders and items and to purchase from the traders using pounds or their own national currency. There are no transaction fees or other hidden charges, simply a once a year subscription.
SmartBarters unique custom built software provides easy accounting, instant transactions and easy to use advertising for your business. For the price of a magazine subscription you get an added web presence, and the ability to trade using BUCS.
SmartBarter also offers an opportunity for new businesses to start up cheaply and easily. They can offer goods and services to a global and local market place by means of the Internet at very little cost, thereby allowing them to try out new ideas at low risk.
For the very small established business with no web presence, it offers an opportunity to try out the Internet as a way to market their business without having to employ expensive web designers.
The barter element of the site is, possibly, the most intriguing. By trading with BUCS, members enhance their cash flow and create unique connections with other, like minded, folk. The Hot Offers section means that a business can offer deals in BUCS at the last minute, therefore gaining income in BUCS which would otherwise be unrealised income. For example, a hotel with bedrooms vacant for the coming weekend, could offer them as a Hot Offer for BUCS, thereby gaining an income for rooms which would otherwise have generated nothing.
SmartBarter is a very new development, combining the old fashioned wisdom of business networking with a revived concept of real mutual exchange.
Everyone wins by joining SmartBarter; it offers all the potential to make your business more prosperous.
###
Contact
SmartBarter Ltd
Matthew Anderson
0870 162 9008
www.smartbarter.co.uk

Contact