Polar Design and Hampshire House Announce the Launch Cheers™ Boston On-Line Store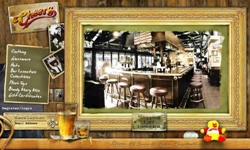 Woburn, MA, February 01, 2007 --(
PR.com
)-- Polar Design (www.polardesign.com) and the Hampshire House Corp. are pleased to announce the recent launch of Cheers' highly-anticipated, animated e-Commerce store accessible at www.cheersboston.com.
The online store's richly animated graphical interfaces are made possible with Flash technology from Adobe (www.adobe.com) and Polar Design's e-commerce platform, InsightBuilder® 2 ECOM, which can interface effectively with the Flash web site. Polar Design successfully mitigated search engine optimization concerns in deploying a fully-Flash e-commerce site by placing the Flash interface inside a hypertext container for each of the main sections of the site and employing HTML hyperlinks where possible.
Gail Richman, Director of Merchandise Operations at Cheers™ Boston, is enthusiastic about the launch. "With the help of the Polar Design team our Internet store now offers a dynamic way of delivering Cheers merchandise to customers that are not able to come visit us in Boston," Richman proclaimed. "With the new development of our e-commerce store, our customers can now purchase officially licensed Cheers merchandise on-line, receive order acknowledgements, and pay using a credit card with just a few clicks of a mouse. This process is quick and easy allowing us to send souvenirs from the world's most famous bar across the country."
Inspiration for the design of the site came from the popular TV show, whose set was based on the local Beacon Hill area pub. Site customers will notice authentic details and recognizable images from the show – with interactive receipts signed by "Carla," and pictures from the show's opening sequence hung on the wall.
"The design concept the client chose was the riskier one but, and ultimately, we felt, would be the most successful in setting the store apart," explains Mark Jaklovsky, Managing Director, "The design team created a concept influenced by the Cheers™ television show's opening credits to evoke nostalgia with a distressed, organic feel that suggests a bar, as well as elements remniscent of the show, such as the bar tab from Carla and other design metaphors."
Hampshire House Corporation (www.hampshirehouse.com), Cheers™ Boston's parent company, has reported a successful launch of the site and says it has greatly increased novelty sales. Polar Design will continue to support the Cheers Boston site while training employees to use Polar Designs' content management and e-commerce system, Insight Builder® 2 ECOM (www.insightbuilder.net)
About Polar Design
Polar Design (www.polardesign.com) is a mid-sized interactive agency with offices in the United States and Europe, founded in 1999 with the mission of elevating corporations' and non-profits' Internet communications. Our 30 employees serve the web marketing and e-commerce needs of Fortune 1000 and small businesses alike through their diverse specialties, from identity and concept development, to graphic and multimedia flash design, to programming and database development. In addition to custom design and development, Polar Design provides a range of marketing solutions, an affordable "hosted" content management and e-commerce platform, as well as application hosting with twenty-four hour support.
About the Hampshire House
Located in the heart of Boston's distinguished Beacon Hill, the Hampshire House (www.hampshirehouse.com) is convenient to many of Boston's finest hotels, shopping boutiques and attractions. Built in 1910 the Georgian revival townhouse has served as a residence, social hub, and luxury hotel. Thomas A. Kershaw acquired the building in 1969 and restored the building's grand aura reviving one of Boston's premier venues for special occasions and a taste of Victorian elegance.
About Flash
Adobe Flash is an authoring environment for use in creating animated and interactive digital media. Adobe Flash Player is used to view the digital media created in Adobe Flash. Both are copyright © 2006 Adobe Systems Incorporated. Visit the Adobe web site for more information (www.adobe.com).
Cheers™ is a registered trademark of CBS Studios Inc.
TM & © 2006 CBS Studios Inc. All Rights Reserved.
**Interviews with Polar Design available on request.
###
Contact
Polar Design
Michael O'Neil
781-404-4000
www.polardesign.com

Contact