Porto Creates Modern, Urban Style in Suburban North Raleigh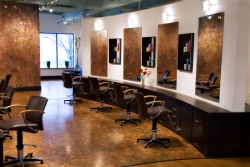 Raleigh, NC, February 08, 2007 --(
PR.com
)-- Inside Samuel Cole Salon, where sleek, espresso cabinetry meets a polished onyx reception counter, and white porcelain shampoo bowls look more like Archipenko sculpture than hair styling equipment, interior designers Michael Perry and Clark Hipolito have transformed an out-of-date interior into an oasis of modern, urban style in North Raleigh.
A year ago, the salon's owners, Jack and Joelle Ray, decided to enlarge their space to accommodate a steadily growing clientele. But they didn't just want it to be bigger; they wanted it to be better. They wanted a high-impact space that would mirror the level of sophistication the salon brings to the hair styling industry in the area. For that, they turned to Perry and Hipolilto. Architect Tom Amann of Design Synergy in Raleigh rounded out the design team.
Perry is co-owner of Porto, an upscale furniture and accessories store located in Raleigh's trendy North Hills shopping center. Hipolito is a silent partner in Porto and principal of The Art Company, a multi-disciplinary design firm, also in Raleigh, that specializes in various phases of interior design. He is perhaps best known for his original murals and other decorative painting effects, including faux finishes. The two have collaborated on many commercial and residential projects.
To enlarge the salon, the owners scooped up the storefront space next door to theirs when it became available. That increased the size of the interior from 1400 square feet to 2800 square feet, which gave Perry and Hipolito ample room to create "a more Modern, spa-like ambience," Perry said.
Clean lines, rich materials, and "separate and distinctive areas for retail, styling services, coloring services, and private employee space," were central issues in Perry's design concept, he said. Dark, espresso-stained cabinetry, custom-designed and built by local craftsmen, and white, curvilinear dividing walls create these distinct areas. The high-end contemporary furnishings from Porto include Desiron® retail cabinets.
The walls bear the marks of Hipolito's artistry: simple drywall is transformed into layered plasterwork. Behind the reception area, looming large in front of the styling stations, is another Hipolito creation: a gleaming faux copper wall. The same faux copper adds a note of elegance to the salon's restrooms.
The designers managed to strike a balance between "urban chic" and "warm and inviting" by juxtaposing the more sleek, modern aspects of the interior with such elements as a pale blue ceiling and honey-hued bamboo flooring.
According to Perry, the bamboo appealed to the Rays' desire to be good stewards of the environment. Bamboo can be completely cut down but the roots are never damaged, so the forest grows back quickly for reharvesting.
Perry is particularly pleased, however, with the cork flooring he specified for the styling section. Cork is also environmentally responsible (it comes from the bark of the cork oak tree, so the tree isn't damaged), and it's comfortable for the stylists: The air trapped inside the cellular structure of cork is a natural shock-absorber. He smiles when he says, "I'm hoping we might be starting a trend here for other salons."
According to the Rays, the new salon is "very inspiring, very uplifting. It creates energy because it's such a high-impact space. It just feels good to be here."
The Rays recently hosted a grand re-opening celebration in their new space. Sponsors included Porto, Margaux's restaurant, Bluewater Spa, and The Art Company.
For more information on Perry and Porto, visit www.portohome.com. For more information on Hipolito and The Art Company, visit www.art-company.com. For more information, visit www.samuelcole.com
###
Contact
Porto home furnishings and accessories
Kim Weiss
919-272-8615
www.portohome.com
919-341-2763

Contact