Jesse Willms Helps Provides a Romantic Valentine's Day at Bissell Centre
Jesse Willms was proud to help provide a Valentines Day dinner to the participants of Bissell Centre.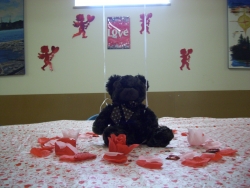 Edmonton, Canada, February 16, 2011 --(
PR.com
)-- Noted businessman-turned-philanthropist Jesse Willms and his friends spent Valentine's Day helping to provide a romantic dinner for Bissell Centre participants Monday night.
"Valentine's Day is all about love, and I love my community," Willms said. "I wanted to help provide romance and dignity to even the least fortunate members of our community and was very pleased to hear the results that my staff relayed to me."
Willms
is known for starting his own business when he was 16 and turning it into a multimillion-dollar operation by the time he was 22. Last summer he was inspired by Bill Gates and Warren Buffett to spend most of his time and energy giving back to the community. Since then he has donated hundreds of thousands of dollars and dozens of hours of his time to non-profit organizations. Bissell Centre has been one of his favorite charities to support since the beginning of his efforts.
Bissell Centre was founded more than 100 years ago in Edmonton on the premise that neighbors should help neighbors. At first, Bissell Centre primarily worked with members of the Ukrainian immigrant community. Today, it provides services for any Edmonton resident facing unemployment, homelessness or issues related poverty.
Amongst their programs, Bissell Centre provides a place where the community can shower, do laundry, have access to a clean toilet and read books or watch movies. Their employment centre matches companies who need day laborers with people who desire to work. Beyond day labor, Bissell also offers job skills classes so men and women can find permanent employment.
Bissell Centre's newest program helps the chronically homeless not only find a home but find a community. As participants are placed in homes the barriers in their life are addressed over a minimum of one year in order to provide stability and permanent housing.
At the Valentine's Dinner, "free child care service was provided for 48 children," Willms said. "They had their own meal in the Child Care Centre. The kids were set up with heart shaped pizza and then given bags filled with candy and teddy bears to take home."
The adults were given a lasagna dinner in as romantic a setting. "The women received make-up, razors, nail polish, lipstick and chocolate so they could feel important on this romantic day," Willms said.
Many of the people who came to Bissell Centre on Valentine's Day said they never get a chance to go on a date, or even out for coffee for that matter.
"What we found out is that many of these people feel they can't even get a latte, because coffee shop employees treat them rudely," Willms said. "That shouldn't happen. We are all part of the Edmonton community."
###
Contact
Jesse Willms
Dana Wong
866-521-8877
jessewillms.com/?p=269

Contact