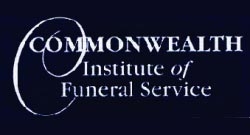 Houston, TX, February 20, 2007 --(
PR.com
)-- The Commonwealth Institute of Funeral Service has expanded to offer Certification for Funeral Directing Online. Students participating in this program will learn the skills for complete funeral directing and funeral service arts in accordance with Texas laws and standards. Among the skills being taught are bereavement counseling, small business management, mortuary law, funeral directing, including all methods of final disposition preparation.
"The ability of Commonwealth Institute to offer our courses online allows our students tremendous flexibility and our institution a competitive advantage in the higher education marketplace," says Jason Altieri, President of Commonwealth Institute. By offering courses online, Commonwealth now affords their students the convenience of not traveling to campus and allowing them to complete coursework at their own pace.
Commonwealth Institute is the only college of its kind to provide the opportunity of working with the National Museum of Funeral History. The museum provides a chance for students to observe the evolution of the funeral service profession
"Our students benefit tremendously from the latest technology, curriculum development specialists and customer support Learning House provides. The implementation of our online program has been seamless," says Mr. Altieri. Online programs are an exciting way to learn for Commonwealth students that is interactive, engaging and stimulating.
About Commonwealth Institute
The Commonwealth Institute of Funeral Services is located in Houston, Texas. The school focuses on all aspects of the funeral service industry. Students benefit from hands on experience made possible by the state-of-the-art preparation room and Commonwealth's ties to the National Museum of Funeral History, Baylor College of Medicine, University of Texas and Harris County Department of Social Services. Commonwealth offers on-campus students the opportunity to participate in more than 1000 funeral service experiences each year. Applied learning is a key part of the Commonwealth experience. The associate of applied science degree program at Commonwealth Institute is accredited by the American Board of Funeral Service Education and recognized by the International Conference of Funeral Service Examining Boards of the U.S., Inc.
About Learning House, Inc.
Learning House, Inc. was founded in 1985 by Dr. Denzil Edge. It is a comprehensive eLearning services company that develops customized eContent, as well as audio and video products; hosts and leases course management systems; leases or sells eContent; and provides 24/7 Help Desk services, project management services, consultation and research services, editing services, and staff training for its clientele. Learning House, Inc. provides eLearning services to numerous institutions of higher education, professional organizations, government agencies, and businesses.
###