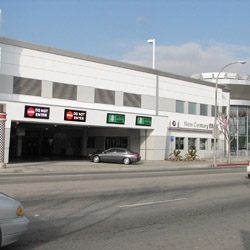 Alhambra, CA, February 21, 2007 --(
PR.com
)-- The New Century BMW car dealer last November completed the construction of its new 250,000 square-foot floor space facility in Alhambra, the largest and newest BMW center in Southern California. To match the high-profile architectural design, New Century BMW adopted the proposal to use four full-color LED electronic signs at the entrance of its service department.
LED stands for Light Emitting Diode. It's a solid-state lighting material that has a long operating life of 100,000 hours and is very energy efficient. These merits render major savings in energy and maintenance costs for users of the LED sign. The rich colors and high brightness of LED's also make the images displayed on the sign very appealing and eye-catching.
The four LED signs at New Century BMW were manufactured by Act One Communications, Inc. (www.actone1.com) in Irwindale of California, and the project design and installation was done by B.K. Signs in Azusa (www.bksigns.com). For this project, Act One and B.K. Signs together evaluated the site and then made their proposal to New Century BMW for the most fitted solution.
The three-story building of New Century BMW sits at the corner of two intersecting busy streets. The service department is located on the side wing and thus not very noticeable from the street. Using the four high-brightness LED signs at the service entrance fits the need nicely to catch motorists' attentions and direct customers to drive into the facility.
According to Christine Lien, the Vice President of Act One, "Simple backlit signs or traffic signals could have been used for the purpose, but they just cannot match the high-profile image that our LED signs can provide."
As a recipient of the 2006 Center of Excellence Award from BMW of North America, New Century BMW has been highly focusing on the customer satisfaction. Using the LED signs has further enhanced the dealer's image as a provider of quality services to its customers.
The four full-color (RGB) LED signs are of the same size, measured 2.5 feet high by 6.5 feet wide. An optimum pixel resolution of 32 high by 96 wide provides an economical way to display quality graphic images. The displayed images are programmed with PC software and the files can be sent to the signs instantaneously via the standard local area network (LAN).
About Act One Communications
Act One Communications, Inc. is a manufacturer specialized in outdoor LED signs, large LED video displays, and LED lighting products. It provides products and services to clients in the North, Central and South Americas. For more information, visit
www.actone1.com
.
###