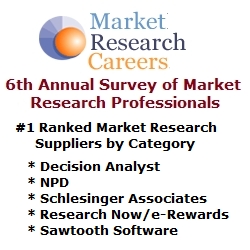 Stamford, CT, March 17, 2011 --(
PR.com
)-- With 106 market research suppliers across five categories evaluated by their customers, the
2011 Annual Survey of Market Research Professionals
reveals the market research suppliers with the highest and lowest overall customer satisfaction scores. The results, by category include:
Full Service Research Providers: (40 firms reported)
1. Decision Analyst
2. Directions Research
3. Bases
38. Q Research Solutions
39. International Communications (ICR)
40. MarketCast
Syndicated Research Providers: (13 firms reported)
1. NPD
2. Forrester
3. Nielsen
11. comScore
12. Hitwise
13. Simmons Market Research
Qualitative Research Services: (14 firms reported)
1. Schlesinger Associates
2. iModerate
3. Understanding Unlimited (Iposos)
12. Firefly
13. Clear Ideas
14. GroupNet
Online Sample Providers: (12 firms reported)
1. Research Now/e-Rewards
2. Authentic Response/Return Path
3. Survey Sampling (SSI)
10. Luth
11. Experian
12. MarketTools/Zoomerang
Online Survey Software Providers: (27 firms reported)
1. Sawtooth Software
2. SPSS
3. ConfirmIt
25. Apian
26. Voxco
27. StatPac
"We are pleased to see firms like Research Now/e-Rewards that have consistently delivered for their customers -- leading their category for four consecutive years," said Mike Carroll, Director of Sales and Marketing for MarketResearchCareers.
"We are also inspired to see firms working hard to deliver market research services at the highest levels and receiving the recognition of their customers," said Carroll. "Decision Analyst, NPD, Schlesinger Associates, and Sawtooth Software should be commended for meeting, if not exceeding, their customers' expectations. Their success can be a model for other firms in the category," said Carroll.
The survey was conducted between January 5 and January 23, 2011 with 550 market research professionals completing the survey -- providing a data tolerance of +/- 4.2%.
For more information about the report, please visit: http://www.marketresearchcareers.com/2011
About MarketResearchCareers
MarketResearchCareers is the career website with the most comprehensive database of resumes and jobs focusing exclusively on the Market Research industry.
Visited monthly by nearly half of all market research professionals in the United States and possessing the resumes of more than 40,000 market researchers, MarketResearchCareers is your market research staffing headquarters. See why so many corporate hiring managers, human resource professionals, market research suppliers, and thousands of skilled researchers turn to MarketResearchCareers to fill their market research jobs.
Visit us on the web at http://www.marketresearchcareers.com/ or call us at 1-800-872-5401.
###