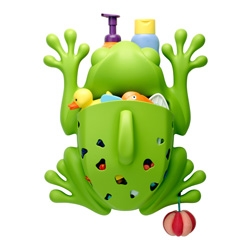 Tempe, AZ, February 22, 2007 --(
PR.com
)-- Boon Inc. is proud to announce that the Frog Pod® bath toy scoop and storage is a celebrated winner of an iParenting Media 2007 Best Products Award. Carefully chosen by the iParenting Media Award reviewers, the Frog Pod® was one of only ten products in the gear and equipment category to receive this prestigious award.
iParenting Media is a premier source of information and resources for pregnancy and parenting. The iParenting Media Awards program provides a credible and objective method of determining the best products in the marketplace and then honors them with this prestigious consumer award. The iParenting Media Awards program is the only consumer awards program certified by ISO 9001:2000, the internationally recognized standard of quality assurance. Products are reviewed nationwide by a diverse group of parents, experts, licensed childcare centers, and schools.
"The iParenting Media Awards program is an unprecedented process that carefully reviews and then recognizes the best products in the marketplace and shares them with parents. The products submitted in our Best Products call for entry were diverse and appealing, but only the ones that exceeded the high evaluation standards we set earned the iParenting Media Award," said Alvin All, Chief Executive Officer of iParenting Media.
The Frog Pod® was invented by industrial designer and mom, Rebecca Finell, to help streamline children's bath time clean-up. The Frog Pod's® removable scoop allows parents or children to scoop up the toys at the end of bath time, rinse them off, and hang them on the wall-mounted base—letting the toys air dry and keeping them organized between baths. The built-in shelf stores bath products and the frog's fingers and toes can be used to hang accessories.
The iParenting Media Award reviewers praised the Frog Pod® for its innovation, functionality, and appeal. "I think this product is a great idea. Children always have so many bath toys and no place to actually store them so the Frog Pod® is a great invention," said one reviewer. "As soon as we opened this package my kids LOVED it. They played with it for most of the day before we actually used it in the bath. I like the ability to "scoop" the toys out of the tub and easily attach it to the frog holder. The shampoo/supply holder is a great idea for easy reach for parents," said another.
"We are honored to receive this award from such a well-respected organization," said Kate Benjamin, Director of Marketing at Boon. "We have received a lot of positive comments on the Frog Pod® from consumers, but it's extremely rewarding to be recognized by these reviewers."
The Frog Pod® sells for $29.99 and is available at retailers nationwide or at www.booninc.com.
About iParenting Media
iParenting Media operates one of the Internet's most popular communities for parents and parents-to-be at www.iParenting.com. iParenting Media is committed to producing the most meaningful content for parents so they can make the best decisions for their families. Consumers can learn more about iParenting Media Award-winning products, and find out where to purchase them via their retailer network online directory, by visiting www.iParentingMediaAwards.com.
About Boon Inc.
Boon Inc. creates innovative and stylish products that help make parents' lives easier. Often combining multiple functions, Boon products are designed with clean, modern styling, appealing to both parents and children. Boon donates 10% of profits to benefit children's charities. For more information about the Frog Pod® and Boon's other innovative products, visit www.booninc.com.
###