Donald Kirkpatrick Receives ISA Thought Leadership Award
Training industry legend Donald Kirkpatrick, of Kirkpatrick Four Levels fame, was honored this past week for his pioneering work in learning ROI and training evaluation. Kirkpatrick received the Thought Leadership Award from ISA-The Association of Learning Providers in recognition of his body of work in support of work-related learning and performance, and the significant influence he has had in helping people measure the effectiveness of training.
Lake Ridge, VA, April 05, 2011 --(
PR.com
)-- Donald Kirkpatrick, creator of the Kirkpatrick Four Levels™ Learning Evaluation Model, was presented with the 2011 Thought Leadership Award at ISA-The Association of Learning Providers' Annual Business Retreat Awards Dinner, held in Scottsdale, AZ, on March 22. The designation recognizes those whose body of work in support of work-related learning and performance has significantly influenced people and organizations.
"Donald Kirkpatrick's work is the gold standard for training evaluation around the world," says James Chisholm, Co-Founder and Principal of ExperiencePoint and Chair of the Awards Committee. "As the visionary who gave learning professionals a methodology to measure the effectiveness of the training, he has had a profound impact on the training industry."
Accepting the award by phone, Kirkpatrick acknowledged the work of ISA's members in pushing organizations to focus on training results and impact. His son, Jim, and daughter-in law, Wendy, who are continuing to move Kirkpatrick's work and vision forward, were also in attendance.
The author of seven management inventories and seven books on training evaluation and HR topics, Kirkpatrick's ideas on measuring training effectiveness were originally published in 1959 as part of his Ph.D. dissertation. Throughout his career, he has taught managers at all levels in the areas of coaching, communication, time management, change management, team building and leadership.
"It's an honor to present this award to Donald Kirkpatrick," says Pamela Schmidt, Executive Director of ISA. "He's a legend in this business, and his pioneering work continues to influence those who are new to the training industry as well as seasoned veterans."
Among his many accolades, Kirkpatrick is the recipient of the "Gordon Bliss Award," the American Society of Training and Development's (ASTD) highest form of recognition, as well as ASTD's "Lifetime Achievement in Workplace Learning and Performance." An inductee into the Training Magazine Hall of Fame, he is also past president of ASTD and Professor Emeritus at the University of Wisconsin.
As the recipient of the ISA Thought Leadership Award, he joins previous winners including Jim Kouzes (The Leadership Challenge), the Center for Creative Leadership, and Cathy Rezak and Ray Green (Paradigm Learning).
To learn more about the 2011 ISA Awards, visit www.isaconnections.org.
About ISA-The Association of Learning Providers
ISA is the only industry-specific association devoted exclusively to the issues and needs of business owners, founders, CEOs and leaders in the training and performance industry. 60 companies comprise the membership of ISA, representing 5,000 employees and serving 15,000 clients across every industry sector and around the world.
###
Contact
ISA-The Association of Learning Providers
Pamela Schmidt
(703) 730-2838
www.isaconnection.org

Contact
Multimedia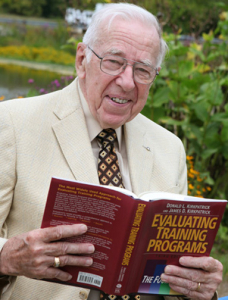 Donald Kirkpatrick was honored with the 2011 ISA Thought Leadership Award at the ISA Annual Business Retreat.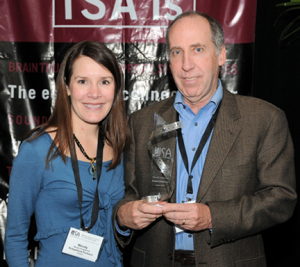 Wendy and Jim Kirkpatrick accept the 2011 ISA Thought Leadership Award on behalf of Jim's father, Donald Kirkpatrick, training evaluation pioneer and creator of the Kirkpatrick 4 Levels(TM).