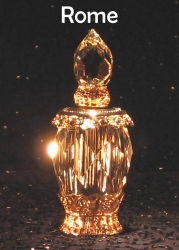 San Ramon, CA, February 26, 2007 --(
PR.com
)-- The Heaven's Alchemy Experience
Heaven's Alchemy is on the cutting edge of the fragrance industry. The Company's new line features 15 exquisite Concentrated Perfume Oils (CPO's) ranging from the delicate florals of the West to the exotic incense aromas of the East with fascinating "bridge fragrances" that blend the distinct traditions of East and West.
This Company respects and understands the importance of the experience of perfume; searching the world to accomplish its mission of creating the most captivating fragrances from the East and the West.
Heaven's Alchemy provides this unrivaled choice in the form of CPO's that blend with a woman's unique chemistry to create a scent that is hers alone. Heaven's Alchemy Exquisite Perfumes are created with no alcohol, color additives or unnecessary chemicals.
Because of the integral purity of the perfumes and their high concentration, the fragrance experience is dramatically enhanced. A woman can clearly detect the top note bursting forth, the middle note with its incredible staying power and the solid and comforting base note that lingers at the end of the day. The enchanting complexity of these perfumes is what keeps customers coming back again and again.
This, however, is only part of the Heaven's Alchemy experience. The mesmerizing perfumes are contained in dazzling handcrafted Crystal Perfume Bottles. The Crystals are reminiscent of the glamour and beauty of the 1940's complete with wand applicator and perfume funnel. Inspired by these Crystals and their distinctive stylized beauty, a woman can visualize herself sitting at a dressing table; readying herself for a silver screen premiere. Applying the fragrance at her neck, wrists, and throat will transport a woman back to a glamorous era. She will recreate a time when femininity and strength were equally admired.
Heaven's Alchemy empowers women to create their own image of beauty. She selects her perfume, then selects her Crystal, culminating with her signature fragrance. The Crystals are named for mythical and sophisticated cities throughout the world. The glory of St. Petersburg, Rome, and Shangri-la are balanced with the clean lines of Kyoto, New York, and Athens. Every woman will be able to find the precise Crystal she desires, filled with her own singular and amazing fragrance. This combination is truly unique and not found anywhere else in the marketplace!
Heaven's Alchemy is revolutionizing the fragrance industry with its dedication to purity and customized beauty. You can visit Heaven's Alchemy's website at www.HeavensAlchemyPerfumes.com to explore the notes of the Concentrated Perfume Oils, Crystals, and information about the company.
###