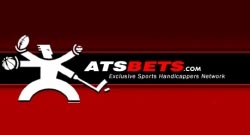 Las Vegas, NV, February 28, 2007 --(
PR.com
)-- ATSBets.com announces the launch of the ATS Network designed to provide Sports Handicapping Services and a Professional Sports Handicapping service for all sports betting visitors. Join the ATSExperts for free Sports Handicapping Tips and the daily game study to help you stay ahead of the books this season.
The ATS Network is the only premium sports handicapping service in the industry that offers expert handicappers, free sports handicapping picks, fantasy sports contests, betting stats, detailed game previews and real time sports scores.
"The ATS Network has allowed ATSBets to branch off and provide various forms of entertainment and sports wagering information. We are all very excited about the services that we now provide to our members. From the sports consultation services to our soon to launch Head to Head game match up center, the Network will be your one stop shop for all members," said senior Expert Jack Pappano. One of the features of the ATS Network is the free fantasy sports contests. Members can enter one of the three current contests for a chance to win prizes and money.
ATSBets.com has been serving the online community since 2004. In 2005 ATSBets was selected as "Handicapping Police Site of the Year". "ATSBets was an easy selection by our staff and traffic. We received by far the most positive emails and they dominated our Top 5 board this year with nine separate appearances," said HP staff member Ron DiFranco.
About ATSNetwork.com:
ATSBets and ATS Network provide online sports informational services as well as numerous member benefits for any sports enthusiast.
###