Linear Title & Closing Ltd Expands National Service to 46 States and Adds Georgia Office Locations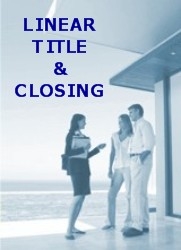 Middletown, RI, March 02, 2007 --(
PR.com
)-- Linear Title & Closing Ltd, one of the nations' fastest growing title agencies, today announced that it is offering service in 46 states as well as the imminent opening of its Atlanta, Georgia office.
Linear Title & Closing employs over 70 full and contract employees at five locations throughout the country. Since its establishment in January 2005, the company has focused on servicing national lenders, largely attributable to its experienced staff, its commitment to customer service, and its web based technology. Nick Liuzza, president and CEO, will continue to oversee Linear's rapid expansion.
"We are fortunate to have this opportunity to increase our operations across the United States," said Nick Liuzza, president of Linear Title & Closing Ltd. "This is a profitable, well-managed company that we hope to strengthen further through title plant automation, implementation of cutting-edge technology, and exemplary customer service."
For more information please visit www.lineartitle.com, or call 401-841-9991.
###
If you'd like more information about this topic, or to schedule an interview with Nick Liuzza, please call Amy Sullivan at Toll Free 1-877-841-9991 or e-mail Amy at asullivan@lineartitle.com
Contact
Linear Title & Closing
Chip Leakas
877-841-9991
lineartitle.com
For appointment with Nick Liuzza, CEO; contact Amy Sullivan email; asullivan@lineartitle.com

Contact