Perfect Mother's Day Gifts for Moms Fighting Cancer
CancerBeGlammed.com's Top Five Gift Ideas to Celebrate Mom's Courage and Love
Pittsburgh, PA, April 21, 2011 --(
PR.com
)-- While chocolate, perfume and dining out are popular Mother's Day gifts, moms having surgery, chemotherapy or radiation for cancer may not be able to fully enjoy these items due to treatment side effects. These may include extreme fatigue, hot flashes, nausea and skin sensitivity – especially to certain chemicals, fragrances and the sun. Online shopping resource
CancerBeGlammed.com
, which carefully selects products to help women recover from cancer in comfort and style, suggests these great gift ideas that show Mom you appreciate what she's going through and to thank her for her courage and love.
· "Mommy & Me" Matching Robes and Children's Pajamas
A wrap robe or stylish button-down pajamas make a perfect post-surgery gift for some rest and recover time following chemotherapy or radiation. This Mother's Day, pair it with the matching children's pajamas for a unique and perfect gift that shares your love.
· Beautiful Tea Set and Soothing, Healthy Teas
One of the best gifts you can give your wife or mother is spending time together. Trade stories and laughs over a healthy, soothing cup of tea, which has many benefits that help combat the side effects of chemotherapy or radiation such as nausea, stomach upset and mouth sores. Throw out those cracked mugs and give mom a beautiful tea set, then snuggle down to share a cup.
· Apple iPod Shuffle, Featuring Mom's Favorite Music
Music is one of the best ways to relax while away during chemotherapy treatment, long waits at the oncologist's office or in the carpool line. Make mom a personal Mother's Day gift of music by downloading her favorite tunes onto an iPod Shuffle. The Shuffle is small, lightweight and can be clipped onto clothes or a chemo tote bag.
· Night Sweats and Hot Flash Helpers
Chemotherapy-induced menopause can turn even the most cool-headed mom hot. A wicking-wear pillowcase draws moisture away from the skin to keep it cool and dry for a better night's sleep or afternoon nap. Pair it with hot flash/night sweats pajamas or a gown for a Mother's Day gift that everyone in the family will be grateful for.
· Sun Protective Clothing for "Fun in the Sun" Together
The sun is shining and it's time to head outdoors for a family Mother's Day walk or race, such as your local Susan G. Komen Race for the Cure. The sun feels great, but its harmful rays are even more damaging to chemotherapy or radiation ultra-sensitive skin. Sun protective clothing and accessories such as hats, wraps, exercise jackets and scarves with UPF 50+ sun protection built in, make a perfect Mother's Day gift that can be enjoyed all year long.
About Cancer Be Glammed
Cancer Be Glammed, LLC was founded by Pittsburghers Lisa Lurie, a breast cancer survivor and Ellen Weiss Kander, who underwent chemotherapy for a rare blood disorder. They believe cancer can be survived in comfort and style, and that wearing and using fashionable, comfortable and soothing products during treatment and recovery can have significant, positive impact on a woman's mental and physical outlook. Their CancerBeGlammed.com web site is an online shopping resource, connecting women to stylish items from post-operative necessities, to fashion solutions, pampering products, unique gifts and more. Their free Style Guide, complete with Shopping Checklist, is downloadable, and Give A Glam!, their charitable giveback, donates a portion of their profits to cancer support organizations. For more information, visit www.CancerBeGlammed.com.
###
Contact
Cancer Be Glammed, LLC
Mary Ann Miller
412-366-6122
www.CancerBeGlammed.com
Lisa Lurie
lisa@cancerbeglammed.com

Contact
Multimedia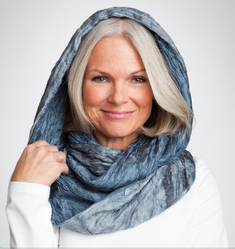 Mom will love this beautiful infinity scarf that helps protect skin ultra sun sensitive from radiation or chemotherapy. This reversible Silk Infinity Scarf offers endless wrapping styles and lightweight UPF 40+ sun protection. Made of 100% silk.