New Company Asks the Question, "Got Baby?"
A new company is looking to answer the question, "Got baby?" with funny, cool and hip t-shirts and gifts for the expecting or new parents and baby.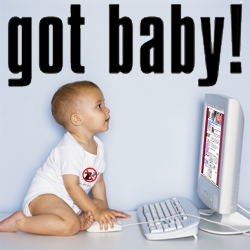 Cincinnati, OH, March 07, 2007 --(
PR.com
)-- In an industry with so much competition, you could be forgiven for dismissing the new firm as yet another maker of maternity t-shirts and baby bibs. However, got baby! offers some fresh and unique designs with many options, especially for the dad-to-be and new dad.
"I think the dad-to-be has been somewhat forgotten when it's come to t-shirts and gifts for the new parents. Mom has so many fun choices with designs like 'Baby Under Construction', 'Practice Makes Pregnant' and 'Birth Control is for Sissies'. And there are even more great designs for baby. There haven't been the same options for the proud papa," says CEO of got baby!, Christie Caronis-Gardner.
got baby! offers numerous design choices just for the future dad. Some of the most popular include 'He Shoots. He Scores.', 'My Boys Can Swim', 'Got One Past the Goalie' and 'I'm Drinking for Two'. "By far, these designs have been our biggest sellers," reports Andrew Gardner, President and V.P. of Marketing. "Up until now, I think it's been a relatively untapped niche. Many of our customers are males buying for themselves, so they are obviously wanting to announce their happy news with funny and cool t-shirts."
In addition to many humorous and creative options for the new parents, there are numerous designs available for baby. Don't settle for another baby bib with a sweet, little duck or frog or more onesies and t-shirts with boring flowers. got baby! has humorous options for cool, hip babies, toddlers and kids like '100% Baby, Freshly Squeezed', 'I'm Not Smiling, it Really is Gas', 'Baby McDreamy, Bring me a Bottle. Stat!', and 'Obviously, Mommy Puts Out'. Let your little one express a sense of humor at an early age.
"Your pregnancy shouldn't be boring. You aren't, and your baby certainly won't be! Have some fun," says Caronis-Gardner. "When I was recently pregnant with my first child, Nicholas, I was freaked out for months about giving birth and being a new mother. It's so much easier to deal with that stress when you can laugh at yourself and the entire experience!"
Launched in December 2006, the got baby! Web site at www.got-baby.com offers options to purchase got baby! apparel and gifts or request a custom design. There's also a collection of information, reviews, helpful links and other resources for the mom and dad-to-be. But the main focus of the site is to direct you to places where you can purchase got baby! items like www.cafepress.com/c2gdesigns and www.zazzle.com/c2gardner.
The designs of got baby! are available on many products including a variety of t-shirts, sweatshirts, baby bibs, onesies/infant bodysuits, coffee mugs, caps, aprons, greeting cards and more. The products are printed and fulfilled by Cafepress.com and Zazzle.com. Products vary by site, but both companies offer a wide variety of styles, colors, sizes and options. The got baby! CEO chose these two sites, because she was extremely happy with the site's product offerings, print quality and Customer Service.
"We're just getting started," says Caronis-Gardner. "2007 is going to be a very active year for us. We have new design introductions happening monthly, and we have big Marketing and technology plans, too. It's going to be an exciting year!"
###
About the got baby! Company
got baby!, headquartered in Blue Ash, Ohio, specializes in t-shirts, apparel and gifts for the expecting mom and dad, new parents and baby. There are also numerous funny and fun designs available for the entire family. Additionally, got baby! offers unique ways to announce a pregnancy and send a special thank you or baby shower invite.
got baby! also operates a non-maternity division under the name c2g Designs. c2g Designs specializes in a wide variety of humorous t-shirts and gifts. Their online store can be found at www.cafepress.com/c2gdesigns2.
Additional information on the company can be found on the Internet at www.got-baby.com.
For more information contact:
Christie Caronis-Gardner, CEO
got baby!
www.got-baby.com
www.cafepress.com/c2gdesigns
Tel.: (513) 207 6738
cc.gardner@got-baby.com
Contact
got baby!
Christie Caronis-Gardner
513.791.6656
www.got-baby.com

Contact