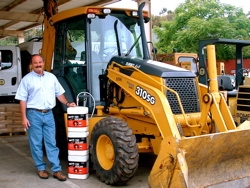 San Jose, March 15, 2007 --(
PR.com
)-- Tiretyte Tire Sealant has saved the City of Los Gatos, CA over $35,000 thousands of dollars by preventing flat tires and costly downtime on the city's street sweeper.
"The City of Los Gatos, CA started using Tiretyte tire sealant over eight years ago. On average, our main street sweeper was suffering a flat tire every week, so it was the natural choice as the first vehicle to be treated with Tiretyte," Steve Regan, Fleet Superintendent for the City of Los Gatos, CA said.
"At first, we were skeptical that Tiretyte could do the job, since we had tried many other tire sealants without any success. After the first month, we were amazed that Tiretyte had not only reduced, but eliminated our flat tires due to tread area punctures. And after a short time, we also realized Tiretyte was maintaining correct tire air pressure, which in turn has increased our tire life and fuel economy," Regan said.
Regan adds, "We estimate Tiretyte has saved our city over $35,000 in flat repairs and downtime on just our street sweeper alone. The fuel savings and increased tire life, added even more savings, allowing us to use this money for other important items in our budget."
Los Gatos has continued to use Tiretyte throughout the majority of their fleet including their Mustang and Gehl skid steer loaders, John Deere backhoe and riding mowers, Caterpillar loader, trailers, GM, Ford, Freightliner and Peterbilt trucks and more for over eight years.
Regan adds, "Tiretyte will always remain a permanent part of our fleet and tire maintenance program."
For more information on Tiretyte Tire Sealant, contact Bill Martin, Tiretyte Products - San Jose, CA. Tel: 408.993.1010, 800.847.3898, Fax: 408.904.5032, tiretyte at aol dot com
###