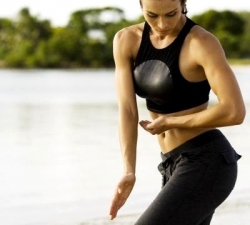 Boca Raton, FL, March 17, 2007 --(
PR.com
)-- Ready to get in shape and lose some weight? Looking for a Fat Farm? At Bella Vita Retreat, the term "Fat Farm" is the old fashioned term for fitness retreat, boot camp retreat, health spa, fitness spa and many others. Bella Vita Retreat has a new replacement phrase, "Fit Farm" for the lesser, more negative Fat Farm. The retreat is about positive energy and instilling healthy, positive thoughts. The harsh sounding term, Fat Farm, paints a picture of a lockdown with hundreds of fat people being deprived of food and made to work hard in unfit conditions. The truth is that a Fit Farm is exactly the opposite. A Fit Farm is a place where people, men and women, can go to get motivation, guidance and gain a positive outlook on their health and fitness regimen. "Let's encourage people to get fit and know that they can reach their goals. I like to refer to our organization as a Fit Farm," says Margot Rutigliano, Bella Vita Retreat owner.
Taking the negative connotation out of the word helps instill the positive energy and aspects in taking part in a health spa, fitness retreat or other health getaway. If you're serious about shaping up and redefining your body while getting that added pampering tough at the same time, you'll find the ultimate Fit Farm in Bella Vita Retreat. The Bella Boot Camp program is a get your butt blasted in shape fitness retreat. You can't beat the backdrop, the ocean, or the golden sun rays that shine down on you just as you as sweat beads come streaming down your face. Yoga on the beach, morning cardio challenge, beach boot camp and many more classes will reenergize your body and mind.
Retreats are limited to 16 people which ensures individual attention and instruction. Personal Trainers, Yoga Instructors and all staff are available to help answer questions. Individual sessions with a nutrition instructor can be set up as well as private fitness sessions if requested. "We want people to succeed and be happy with themselves. If they have a smile on their face when they leave, I know we've done our job," Ms. Rutigliano says. The retreat has just established a new program, Fit Plan, which offers continued support for nutrition and fitness for a small fee. "I want people to know that we are here for them and fully support them," Margot insists. It's apparent the Bella Vita Retreat is about more than just the programs, it's about establishing relationships and instilling health lifestyles.
Situated about 15 minutes north of Fort Lauderdale on a quiet stretch of beautiful sandy beach, the retreat is located in a little town known as Pompano Beach. Bella Vita Retreat holds their retreats in South Florida at the Ocean Sands Resort and Spa, a small boutique resort with just 89 rooms. Renovated in April of 2006, the resort is sparkling new with a relaxed, calm spa feeling. Bella Vita Retreat's most sought after retreat is the Bella Boot Camp.
Guests rise to the sound of the ocean waves as each room has a balcony with an ocean view. The morning cardio session is set for just after sunrise but on certain days you'll need to be beachside for sunrise yoga. Cardio challenge is held on the rooftop running track followed by the beach boot camp class. The schedule is filled with fitness activities including high intensity interval training, strength and agility training, stretch fusion, yoga, pilates mat classes, spinning and stress reduction. All staff members are extremely knowledgeable and hold national certifications or degrees in their fields. In addition, staff members have a minimum of 5 years experience in their related fields.
Unlike many other fitness retreats, Bella Vita Retreat is more of a "hand held" program. Because the retreats are limited to such a small amount of people, guests generally attend every session of each day. There isn't any getting lost in the crowd which can sometimes happen at the larger health facilities. The staff is readily available and most instructors often stay afterwards to answer questions for guests. One of a kind, warm and caring people, the staff goes above and beyond to make every client feel welcome and comfortable.
The food is wonderful, simple, and very healthy. The price includes three meals daily but excludes desserts, alcohol and extras. The food is prepared daily by a chef on the premises. Vegetarian meals are offered as well including tofu dishes. If you're trying to lose weight or just detoxify your body, you'll love the regimen provided by Bella Vita Retreat. You'll have plenty to eat and drink. The retreat is also close to the downtown area of Fort Lauderdale if you're looking for shopping and sight seeing in your spare time. Though it is nice to get out and about, the retreat offers a wonderful spa atmosphere including a full service spa and salon, fitness center, pilates room, groups fitness room, roof top running track, two heated pools, Jacuzzi and more. There is a full time concierge available to set up any additional excursions as well.
This is a beautiful, tropical beach boot camp as the property is situated directly on the ocean. The resort offers one and two bedroom suites with down comforters, soft linens and towels, hair and skin care products, mini refrigerator, microwave, coffee maker with Starbucks coffee, private balcony with ocean view and tiled and granite bathrooms. In addition, the retreat fee includes valet parking, wireless internet, full use of the fitness facility and beachside cabanas. Guests will find a work station in each room, free unlimited local and 800 calls, phone with two lines, business center, two restaurants and spinning studio.
Offering Beach Boot Camp, Belloga Retreat and Bella Weight Loss Retreats, Bella Vita Retreat guests lose an average of 3 inches in their first week at the health and fitness retreat. Clients leave feeling lighter, rejuvenated and amazingly healthy after just one week. And the best part? They've experienced a true Fit Farm.
###