"Get Blue" – Love Our Children USA's National Effort to Educate America During April, National Child Abuse Prevention Month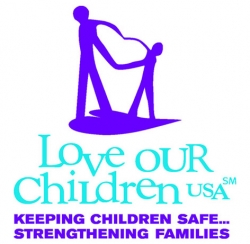 New York, NY, March 19, 2007 --(
PR.com
)-- April marks the 24th anniversary of National Child Abuse Prevention Month, a time dedicated to child abuse education, awareness and prevention activities. To observe National Child Abuse Prevention month, Love Our Children USA, (a national organization headquartered in New York whose mission is to break the cycle of violence against children) begins its fourth annual Get Blue campaign – a national effort to educate and raise awareness for Child Abuse Prevention.
The "Blue Ribbon" is the symbol for child abuse prevention. Love Our Children USA urges every person across the country to Get Blue. By wearing a Blue Ribbon pin during April and throughout the year, we can educate families, children, neighbors, organizations and communities on how to prevent child abuse and neglect -- encourage community and individual involvement in recognizing and preventing child abuse and neglect – assist families in achieving healthy parenting practices through education and resources and empower individuals to report child victimization and intervene in situations where violence and neglect harm children.
According to Love Our Children USA Founder and Chief Executive Officer, Ross Ellis "Child abuse has reached epidemic proportions and the unnecessary tragedies we've seen in the last year calls for educating the public immediately and often." Reports of child abuse nationwide have increased by 30-percent in the last 10-years. If the country thinks child abuse isn't a problem, they need to think again. More than 3 million children are victims of child abuse each year and almost 1.8 million children are reported missing each year, many of whom are abducted from their homes and front yards. Those are only the ones that are reported.
We can no longer overlook America's children who are at risk and peril every day. Since Hurricanes Katrina and Rita, children are at even greater risk in times of stress, loss and overwhelm. "It is of critical importance that we educate the American public and raise a greater awareness to break the cycle of violence against children – before it starts," says Ellis.
Celebrities and the entertainment industry, as well as corporations have joined Love Our Children USA's efforts to break the cycle, including New York City Mayor Michael Bloomberg who has proclaimed April 7th, Love Our Children Day.
An initiative of Love Our Children USA, Love Our Children Day was created to acknowledge the value of children and to educate parents on the importance of giving them love, protection and respect, the three essential elements children need to become strong and successful adults. By promoting healthy and happy children and strengthening families through the support of our
communities, we can keep kids safe and break the cycle of violence.
Mario Batali, Tom Bergeron, Hallie Kate Eisenberg, Melissa Etheridge, Nancy Kerrigan, Cameron Mathison, Mandy Moore, Arthel Neville, Blair Underwood, Frederique Van Der Wal and many others join Love Our Children USA in celebrating children on this special day – and throughout the year in efforts to keep children safe.
Ross Ellis said "A child's voice is small, ignored and unheard. We must raise the volume so that everyone hears their message. Imagine if everyone in the country wore a Blue Ribbon -- if every community, business, school, faith organization, hospital and home displayed a Blue Ribbon -- we could make such an impact in raising awareness to break the cycle that breaks children's hearts ... their lives ... and their spirit."
National Child Abuse Prevention Month is not only a timely opportunity to remind ourselves of our collective responsibility to protect America's children and strengthen America's families, but it is time to accelerate education and awareness of this very public epidemic and make our children a priority now. The country, our communities, concerned citizens, and even youth must work together to break the cycle.
###
About Love Our Children USA
In its eighth year, Love Our Children USA is the leading national nonprofit headquartered in New York City that honors, respects and protects children. Its mission is to break the cycle of violence against children. Love Our Children USA has become the go-to prevention organization for all forms of violence and neglect against children. It works to eliminate behaviors that keep children from reaching their potential. It redefines parenting by promoting prevention strategies and positive changes in parenting and family attitudes and behaviors through public education. It works to empower and support children, teens, parents and families through information, resources, advocacy, and online youth mentoring. Its goal is to keep children safe and strengthen families -- Its message is positive ... one of prevention and hope.
Visit the Love Our Children USA website at
www.loveourchildrenusa.org
Contact: Media Relations
Love Our Children USA
888.347.KIDS / 212.629.2099
Contact
Love Our Children USA
R. Ellis
888-347-KIDS
www.loveourchildrenusa.org
Media Relations

Contact