"New Business Owner Success" Seminar Announced
Topics important to new business owners and people thinking about starting a new business will be discussed at a seminar offered on April 19, 2007 in Livermore, California. Professionals serving the Tri-Valley area are offering their knowledge and experience to help local business owners get their new businesses set up for success.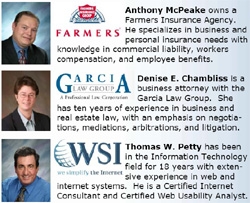 Livermore, CA, March 19, 2007 --(
PR.com
)-- People who have recently started a business or who are thinking of starting a business could benefit from information and discussion at an upcoming business seminar. Three industry-leading companies have come together to present some of the core information needed by small business and self-employed individuals to understand setting up their new business ventures. The seminar is sponsored and presented by Anthony McPeake of Farmers Insurance in Livermore, Denise E. Chambliss, Esq. of Garcia Law Group in Pleasanton, and Thomas W. Petty of WSI in Livermore. The seminar debuts at 9:00 a.m., April 19, 2007, in Livermore.
Mr. McPeake will discuss business insurance, including what types of insurance might be needed and how a new business can afford medical insurance. McPeake's practice specializes in helping business owners with their business and personal insurance needs. By having knowledge in the areas of commercial liability, workers compensation, and employee benefits, McPeake addresses the unique needs of small business owners.
Ms. Chambliss will discuss the differences in various business entity forms, such as a corporation and a limited liability company. She will also survey issues regarding the decision to hire independent contractors versus employees, and offer her list of the five top reasons why businesses fail in the first two years. Chambliss says, "A person starting a business has so many areas they need to learn quickly. Rarely is the 'Lone Ranger' approach advisable. Successful owners have a network of resources to help them get a handle on the details."
Mr. Petty will discuss targeted marketing strategies and making advertising pay for itself. Petty has been in the Information Technology industry for 18 years, and has a broad knowledge about computers, the internet, web usability, business planning, and project management. "We as business owners ourselves understand the difficulties faced in starting a new business. We want to pass some of that knowledge along to our fellow colleagues," Petty says.
Register for the seminar by calling (925) 245-0216 or e-mailing seminar@wsismartsolutions.com. More information and a registration form is available at www.wsismartsolutions.com under "What's New". There is no cost to register, but seating is limited to the first thirty registrants.
Date: Thursday, April 19, 2007
Time: 9:00 a.m. until 10:30 a.m.
Location: 2157 First Street, Conference Room, Livermore
About Farmers Insurance: Farmers Insurance provides auto insurance, home (homeowners and renters), life insurance, business insurance, umbrellas, boat and recreational vehicle insurance to the local Livermore and surrounding community.
About The Garcia Law Group: Committed to serving businesses and individuals with intelligence and integrity, The Garcia Law Group is a woman-owned, San Francisco Bay Area-focused professional law corporation. Their areas of practice include business law, real estate law, general civil litigation and estate planning. Consultations are available in Spanish.
About WSI: WSI is the world's leading Internet Services Provider with over 1500 office in 87 countries that provide affordable Internet solutions, delivering ongoing results to small and medium size business owners (SMEs) the world over.
###
Contact
WSI of Livermore
Thomas W. Petty
925-245-0216
www.wsismartsolutions.com

Contact