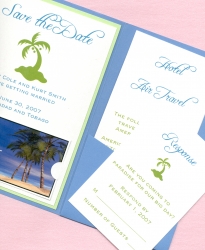 Annapolis, MD, March 25, 2007 --(
PR.com
)-- Allison Barnhill, owner and designer of Handmade by Allison, in Annapolis, MD, will be showcasing her one of a kind, custom designed and handcrafted products and services for special events on Tuesday, April 10, 2007 from 6 to 8pm. This open house will be held at Pink Patio Medspa – 167 Jennifer Road (next to Talbot's), in Annapolis.
What started out as a simple request from one friend to another, has become a dream come true for one local business owner and mother of twins—a successful and thriving special event invitation and accessories business. The business has taken off so fast, that owner Allison Barnhill and her husband had to put a new addition on their house to meet the ever increasing demands of the business.
Handmade by Allison was conceived a few years back when Barnhill was asked by a girlfriend to help her design some invitations for her wedding. "My friend wanted a unique way to invite guests to her beach-side wedding. I designed an invitation that was mailed in a rustic box and included a real sand dollar, complete with a raffia tied tag with their names and wedding date engraved onto the sand dollar." said Barnhill. "My friend loved it and I discovered an untapped talent, which I decided to take advantage of by starting Handmade by Allison."
Custom invitations and paper accessories are becoming more and more popular, as brides or party hosts look for new and unique ways to make their wedding or event stand out from the norm. What customers love about Handmade by Allison and keep coming back for, is the handcrafted, individually made items for their special occasion that you can't get at any invitation store. Says Jennifer Lusko, a loyal customer of Handmade by Allison, "Allison personally designs your invites or event accessories based on what your needs are and all the "who, what, where" factors may be. You can't go the mall and find anything like the creative stuff she cooks up, because she takes the time to sit down with you and create something special, based on who are and what you need. Case in point; Allison came up with the clever idea of a movie ticket theme (because I am a big movie buff) for my baby shower. The invites were oversized movie tickets with the "Special Release" date being his arrival date! Retro boxes of popcorn, Sugar Baby candies and all sorts of movie themed goodies were the favors. My guests and relatives were blown away. Now I go to her for any occasion that needs invites or favors. It's a no brainer."
Other interesting projects by Handmade by Allison have included sketching the dome of the Naval Academy Chapel and designing a wedding invitation using the commissioned sketch. For Las Vegas nuptials, Allison created a pocket style invitation complete with a king and queen of hearts monogram design. For a baby turning one, Allison designed birthday party invitations with the theme of "time flies" and adorned the invites with little paper airplanes.
Mrs. Barnhill also takes pride in being able to work with most budgets, while still delivering a very high quality of workmanship.
The full range of products and services that Handmade by Allison specializes in are:
• Invitations, Save the Dates and Announcements
• Programs, Table Numbers, Place Cards & Menu
• Favors, Tags and Custom Labels
• Jewelry and Hair Accessories
• Monogram and Design Services
• Hand Painted Aisle and Table Runners
• Calligraphy
• Gifts and Stationery for Baby
If you are interested in attending "A Night with Handmade by Allison" to view Allison's work in person, please RSVP by phone (410-266-3371) or email (becky@pinkpatiomedspa.com).
###