Professional Organization Made Easy with One Hecht of an Organizer
The Hecht of an Organizer is a revelutionary new method you can save money on staying organized by using an ordinary cardboard box.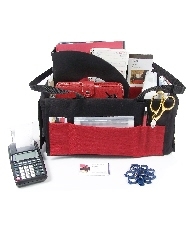 Fort Wayne, IN, March 27, 2007 --(
PR.com
)-- According to Kevin Tibbles from NBC, "6 billion dollars was spent last year on everything from hooks and hangers to closet organizers," yet consumers are still feeling frustrated by their organizing efforts.
With today's busy lifestyles and growing activities and projects, getting organized and staying that way is no easy task. Fortunately, there is a solution to overcoming the chaos that many people contend with on a daily basis, and that is enlisting the services of a Professional Organizer. Don't think you can afford it? Think again! How much time and money do you spend searching for things, clearing a path through the clutter, and obtaining organizing tools to help with the mess?
A Professional Organizer can quickly identify different lifestyles and recommend the right products and systems to maximize efficiency and simplify their use. Therefore, organizing becomes user-friendly, rather than unattainable.
This year, the service of a Professional Organizer has gotten even better with the integration of a truly unique organization tool that is sure to end clutter. Through the use of the patented, Hecht of an Organizer™, clients are astounded by the service and left raving about the multi-functional and portable organizer that is like no other. This new product has been designed for Sales Professionals, Realtors, Moms, Hobbyists, Teachers, and just about anyone with an activity requiring mobility. Your Professional Organizer will teach you how group like items together (paperwork, supplies, tools), give items a home (organizer offers over 20 pockets), easy access for items you use most.
Linda Fowler says, "This is such an amazing organizer. I use it as a home office center and all of my paperwork, files and supplies are in one place! The convenience is unbelievable. And, it is very attractive and so portable that you can sit it out anywhere. I just love it!"
The Hecht of an Organizer ™ is the revolutionary new method that Professional Organizers are using to help clients stay organized throughout their busy days. Linda Hecht, the creator of this incredible organizer says, "I created a unique new way you can save money on staying organized by using an ordinary cardboard box." She goes on to explain how a simple cardboard box can be transformed into her patented organizer, "The one piece organizer - made from durable fabric - simply slides over all four sides of an open cardboard box. Because the organizer covers both the inner and outer side of each side of the box, you never see any cardboard."
One of the greatest aspects that Professional Organizers have discovered about providing their clients with Hecht of an Organizer is the portability. Clients love the freedom of being able to pick up their entire organizer, without worrying about overloading, and take it with them anywhere. It makes for an incredibly smooth transition between home and wherever they need to go.
Pricing and availability
Hecht of an Organizer™ may be purchased through professional organizers who are distributors in several markets. For more information contact L. S. Hecht Designs llc by telephone (317- 776-4449), toll free (866-776-4449) or online (http://www.hechtofanorganizer.com).
About L. S. Hecht Designs LLC
L.S. Hecht Designs llc, founded in 2004 and based in Fishers, IN specializes in creative ideas to help consumers save money and time through organizing solutions. L.S. Hecht Designs, llc's patent-approved Hecht of an Organizer™ make it possible for individuals to finally take control of their lives and become organized. L.S. Hecht Designs llc can be contacted by telephone (317-776-4449 or online (http:/www.hechtofanorganizer.com).
###
Contact
Hecht of an Organizer
Linda or Carol Hecht
866-776-4449
www.hechtofanorganizer.com

Contact