Wholesale Shoes Distributor - Shoenet.com - Adds 300 New Shoes, Boots, Sandals and Clogs to its Wholesale Shoes Website
Enhancing the process of buying wholesale shoes, Shoenet.com offers over 5000 fashion wholesale shoes items, and ease of buying on the web.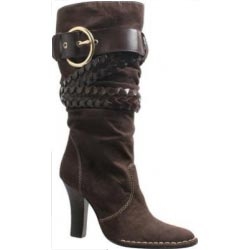 New York, NY, March 27, 2007 --(
PR.com
)-- Wholesale shoes distributor, Shoenet.com, a force in the distribution of wholesale shoes, announces the addition of more than 300 new spring wholesale shoes, wholesale sandals, wholesale boots and wholesale clogs to its website, www.shoenet.com. Additionally, Shoenet.com has added a container offer to its website, where potential customers may purchase wholesale shoes at a certain price point whether it be $2.50, $5.00 or $10.00 in the container load.
Located in the heart of the fashion industry, Shoenet.com gains easy access to the latest styles, at the best prices. "Our location in Manhattan allows us to see the latest styles and products in the industry. This helps us keep our website fresh, adding new styles every day," said Haim Mizrahi Director of Shoenet.com. "The ability for a customer to buy a shoe online whether it's at 3:00 in the afternoon or 2:00 in the morning, makes the process of ordering wholesale shoes a breeze," said Haim Mizrahi.
Shoenet.com offers the best in high fashion wholesale shoes from such designers as Noel Collection, with many styles featured in magazines such as Star. The wholesale shoes distributor not only imports its own wholesale shoes, but also keeps strong relationships with a variety of shoes manufacturers, giving them the opportunity to get the best wholesale shoes styles at the best prices. Shoenet.com also makes the process of ordering as simple as 1 2 3, with its automated order form. Orders may be placed online, by phone at 212-947-3220 or by fax at 212-683-2163.
The addition of more than 300 new spring wholesale shoes styles has attracted the eyes of shoe store owners all over the world. Catering towards the most high fashion shoe boutiques on 5th avenue and SoHo in New York all the way to the smallest seller in a flea market, Shoenet.com is a one-stop shop for all wholesale shoes needs.
About Shoenet.com
Shoenet.com is a well-established wholesale shoes distributor that offers thousands of wholesale shoes for shoe buyers on its website, www.shoenet.com. The main goal of Shoenet.com is to give shoe store owners and shoe buyers quality products, at great wholesale shoes prices, with 100% customer satisfaction. Shoenet.com is a wholesale shoes website; individual pairs of shoes are not available for retail purchase.
Contact:
Haim Mizrahi
Shoenet.com
212-947-3220 ext. 12
###
Contact
Tradings.Net Inc
Gil Einhorn
212 947 3220 ext. 22
www.shoenet.com/

Contact