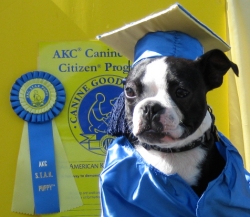 San Diego, CA, July 22, 2011 --(
PR.com
)-- K9 Dog Park / Puppies Dot Com LLC. is proud to celebrate the graduation of 5 graduating puppies and owners from the AKC S.T.A.R. Puppy training class. The AKC S.T.A.R. Puppy Program rewards responsible owners who take the time to train and socialize their new puppies. The program is a natural precursor to the AKC Canine Good Citizen® Test. "S.T.A.R." stands for Socialization, Training, Activity and a Responsible owner, all of the things a puppy needs to have a good life.
"California has already passed a resolution endorsing the AKC Canine Good Citizen program, recognizing that responsible dog ownership is the key to resolving problems in the community," said Penny DiLoreto owner / trainer for K9 Dog Park. "As new AKC S.T.A.R. Puppies, these dogs and owners have taken the important first step in becoming responsible members of the community."
To earn their medals, the participants enrolled their puppies in the A.K.C. S.
T.A.R. Puppy training class instructed by AKC Approved CGC Evaluator, Penny DiLoreto. Classes include valuable training tips for puppy owners such as how to housetrain and lessons on practical skills for puppies such as coming when called. The program is open to all dogs. Puppies can begin training as soon as they have the necessary vaccines and they can enroll in AKC S.T.A.R. Puppy at any point up until their first birthday.
At the end of the training course, the AKC S.T.A.R. Puppy test is administered. Upon passing, owners and their puppies enrolled in the AKC S.T.A.R. Puppy Program receive an AKC S.T.A.R. Puppy package which includes:
A frameable certificate
AKC S.T.A.R. Puppy medal
AKC Puppy Handbook
Discount enrollment in AKC Companion Animal Recovery
Subscription to monthly e-mail newsletter that includes training tips
For more information or to sign up for classes visit
http://www.k9dogpark.com
###