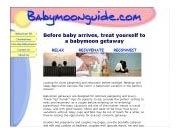 Allentown, PA, March 28, 2007 --(
PR.com
)-- The website www.babymoonguide.com helps expecting couples locate resorts, inns and spas that offer babymoon vacation packages. The site also provides tips and suggestions for planning a babymoon, including the best time to travel during pregnancy and how to choose a babymoon destination.
Lisa Petrocelli, the founder of babymoonguide.com, believes that the relaxation aspect of the babymoon should begin during the planning stage. "The goal of the website is to provide an easy way for expecting couples to explore all their babymoon vacation options in one place. Planning for a new addition to the family can be stressful, but planning a babymoon vacation shouldn't be," she said.
Babymoon vacations are one of the hottest trends in travel today. According to a recent survey conducted by Liberty Travel and BabyCenter®, 59% of new parents have taken a baby moon and more than two million babymoons are taken by U.S. parents-to-be each year. These "last hurrah" trips for parents-to-be provide a setting to relax and reconnect as a couple before entering (or re-entering) parenthood.
The term "babymoon" was coined by British author and childbirth educator Sheila Kitzinger. Originally, it was defined as the period of time after a baby's birth that the family spends alone together, to facilitate bonding between parents and baby.
In recent years, the meaning of the word "babymoon" has grown to include the pre-baby jaunts taken by expecting parents. The travel industry has jumped on the babymoon bandwagon by offering creative vacation packages with moms and dads-to-be in mind. Goodies like pregnancy and couples massages, private poolside cabanas, milk and cookies at bedtime and upscale amenities are combined to create vacation packages that cater to expecting couples.
Babymoonguide.com was launched in September, 2006. The site contains information on over 90 babymoon packages and is frequently updated as new babymoon packages are offered.
###