Dji Dieng - Supermodel Awarded with "Leading Ladies Award 2007" by Österreich Edition Austria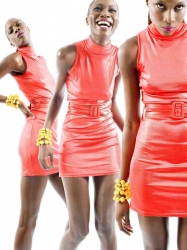 New York, NY, March 28, 2007 --(
PR.com
)-- Supermodel Dji Dieng will be rewarded by Österreich Edition with the "Leading Ladies Honor Award" for her extraordinary social Engagements, as for the charity engagements as "Goodwill Ambassadress" for UNESCO National Committee Sri Lanka in favour of the UNESCO Children Village and the first UNV / UNESCO Peace Fashionshow and UNV / UNESCO Peace Concert, the AIDS Foundations (incl. www.lifeball.org) and the Breast Cancer Prevention Campaigns.
The Jury, composed by highly qualified women from industries, managements and politics, have decided to hand-over for the first time the "Leading Ladies Award of Honour" to Supermodel Dji Dieng, for her social engagements all over the world.
This "Leading Ladies Award" is awarded to women with extraordinary achievements in industry, management, politics, sports and culture.
Supermodel Dji Dieng is enormously touched to be rewarded by such a wonderful price for her charity activities she is involved, as for the AIDS Prevention (LifeBall and in Africa), her personal support of the Breast Cancer Prevention (Campaign) and especially for her social engagement as Goodwill Ambassadress for UNESCO National Commitee in Sri Lanka, where her companies and herself have co-organised as leading sponsors together with United Nations Volounteer Department (UNV) the first UNESCO Peace Fashionshow combined with the UNESCO Peace Concert in Sri Lanka, in favour of Peace and the UNESCO Children Village in Kasgoda, victims of the tsunami tragedy.
She hopes that this special award on April 19th 2007, will encourage more people to support more charity for children and victims - because as Dji Dieng always says:
Without Children - No Future!
The Award will be handed-over in a big Evening-Gala, with special guests, and Dji will be welcomed at the Table of Honour.
Today, among the fashion specialists Dji Dieng is considerered as one of the most beautiful black Supermodel of the world!
Dji Dieng has the longest legs (123cm outseam) of all topmodels, and her smile is flavoured with an extraordinary Aura!
Supermodel Dji Dieng was qualified by fashion specialists and print media as the possible next Naomi Campbell of the fashion industry (La Repubblica 17th Oct.'06 and GQ Italy).
With the longest measured legs on the catwalk and an electrifying presence, Dji models for brands such as Hermès, Vivienne Westwood, Trash-Couture, Diesel, Torrente, Carven, Eymeric François, Maurizio Galante, Nokia Fashion Week, Alphadi, Ji Haye, Munthe plus Simonsen, to name just a few.
Dji's perfect image is also regularly used by famous companies and advertising specialists, and she became Icon for Coca-Cola Light, Clarins Cometics, J&B, Alfa-Romeo, Vivienne Westwood, M.A.C., Swarovski, Make-Up Forever, 5.5 Cigars and many others. Companies from different industries entered also into partnership with Dji and Supermax, and just to name the latest partnership as "Hotel zum Storchen" in Zurich, Switzerland.
Supermodel Dji Dieng, speaking 5 languages, is not only a wonderful personality and mannequin, but also a business woman. Together with special Leather Designer Paul Prinz, Dji has developed her own leather collection brand "Dji by Paul Prinz", and her first collection is called "Luna Negra".
German Television SAT1 just reported about Dji's new collection on Friday, March 23rd 2007 (SAT1 Blitz Magazine 18h50).
The TV Report about Supermodel Dji Dieng was filmed in "Krems an der Donau", where she was welcomed together with world-known Musician Kurt Hauenstein from music group "Supermax" - who played from "Jamaica Sun Splash Reggae Concert to Montreux Jazz Festival" - by the Mayor of the City of Krems, Mr. Franz Hoelzl. The Mayor honoured Dji's social engagements and has pronounced to support them with the City of Krems as well.
She is regularly on covers and editorials are published in many magazines in Europe, Africa, Asia, Americas and Australia - Oesterreich (Life & Style), Marie-Claire, GLAMOUR, GQ Italy, Rebupplica Italy, Metro, Style Magazine, MAX, The Sunday Times, The Mirror, Observer, Oyster Magazine, L'Officiel des 1000 modèles, WOMAN, Divas, Maxima, Shenka, Oesterreich, Wiener, Yahoo News, Vogue.Com, Brigitte.Com, You Magzine, etc.
PRESS (just to name a few)
Marie-Claire
GLAMOUR
GQ Italy
Metro Italy
You London UK
La Repubblica Italy
Style Magazine
WOMAN Magazine
MAX Magazine
Divas Magazine
Oyster Magazine
Shenka Magazine
Oesterreich www.oe24.at
Life&Style
Living Magazine
Miss Ebène
L'Officiel des 1000 Modèles
Forecast Magazine
WIENER Magazine
AMICA Magazine
Couleur Métiss
London Exclusive
The Sunday Times
The Observer
The Islander
Vogue.com
Yahoo.com
Brigitte.com
Keystone
AP
AFP
Daily Press
TV - Broadcasting
France 2/Antenne2, France
Euronews TV (Interview Copenhagen)
Canale 4, Italy
Canale 5, Italy
VIP TV (Interviews Austria)
VOX, Germany
Moscow TV
N-TV, Germany
BBC, United Kingdom
SF1, DRS, TSR Switzerland (Interview "Glanz und Gloria")
Fashion-TV
TV B92
Japanese Televisions
South African Televisions (Interviews and Special Reports)
ORF, Austria (Interviews)
ARD, Germany
ZDF, Germany
Pro7
SAT1
ATV+, Austria (Interviews)
Puls TV (Interviews)
Tele Tell, Switzerland (Interview and Special Report)
Chigaco Broadcastings and Televisions
Sri Lankan Televisions
SkyTV
etc.
CCR COMPTOIR SA
Dji Dieng Management - Supermax Management
Beat K. Schaerz
Chief Operational Officer
###
Contact
Dji Dieng Management
Dji Dieng
+41 - 848 - 227 555
www.dji.li
34 Grand Rue
CH-1204 Geneva - Switzerland

admin@ccr.li
www.ccr.li

info@55cigars.com
www.55cigars.com

office@supermax.cc
www.supermax.cc

Contact