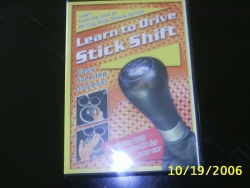 San Diego, CA, March 29, 2007 --(
PR.com
)-- Answer for High gas prices; Learn to drive stick shift. A Study conducted ACSDS and Motor Trend magizine shows driving a stick shift vehicle can save you lots of money. First of all the average price different is about 800-1600 hundred dollars for just the vehicle. The study conducted shows that the stick vehicle got on average 30 mpg more than the automatic vehicle, and in today's prices for gas that's a saving of about 1/4 the price of a tank of gas.
Now All City Stick Driving School is making it easier for everyone to get the saving and learn to drive stick with its easy five step DVD with a 98% success when followed correctly and it has been tested in age groups ranging from 15-80 years old, both male and female with outstanding results.
www.allcitystick.com
to view clip and purchase.
###