Summer Camp Tip: Wear Swim Shirts and Hats Say Nation's Dermatologists
Annual Survey of Dermatologists Reveals 95 Percent Recommend Summer Camp Sun Protection Such as a Swim Shirt or Wide-Brim Hat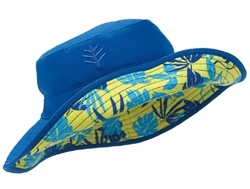 Minneapolis, MN, March 30, 2007 --(
PR.com
)-- Summer camp is more fun without a severe sun burn. That is the message dermatologists are sending loud and clear in their recommendations to parents of camp-bound kids this year.
For the last five years,
sun protective clothing
manufacturer Coolibar has conducted a survey among the nation's leading dermatologists to determine their recommendations for the best sunscreen and other sun safety issues relevant to America's families. This year's survey was completed by 1,020 dermatologists attending the 2007 American Academy of Dermatology (AAD) Annual Meeting.
In the survey, 95 percent of the respondents recommend children attending summer camp use sun protective clothing such as a
swim shirt
or hat with a protective brim.
"Sun protective clothing like swim shirts and hats are a great compromise between parents, who care about protection, and kids, who care about having fun," said John Barrow, founder and president of Coolibar.
Clothing is an excellent sun protection tool because it provides a physical block that doesn't wash or wear off and can shade the skin from both UVA and UVB rays. Coolibar's sun protection clothing blocks 98 percent or more of UV rays, providing an ultraviolet protection factor (UPF) of 50 or greater, and offering more effective skin protection from sun damage than standard attire.
Passing a rigorous lifecycle test performed by an independent laboratory, Coolibar's products are the only sun protective garments to earn the prestigious Seal of Recommendation from the Skin Cancer Foundation.
About Coolibar
Based in Minneapolis, Coolibar was founded in 2001 to bring Australia's world-leading approaches to sun protection to the American market. The company has extensively redesigned Australian sun protective clothing styles to meet the tastes and needs of fashion- and health-conscious Americans. For information about Coolibar, go to www.coolibar.com or call 1-800-926-6509.
###
Contact
Coolibar
Rob Davis
612-372-6452
www.coolibar.com

Contact