zenhire, Inc. Announces the Appointment of Edward Melia as Vice President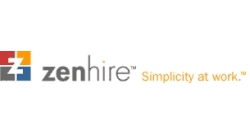 Amherst, NY, April 03, 2007 --(
PR.com
)-- zenhire™, Inc., a leading-edge provider of innovative web-based collaboration and technology solutions for the human capital industry, has named Edward Melia as Vice President of Product Management & Business Development. Effective immediately, Melia will assume responsibility for product evolution, strategic development, and industry alliances.
"Ed's exceptional level of industry knowledge in HR services and technology-driven solutions - particularly in the areas of screening, assessment and selection instruments - will be a great advantage to the zenhire team as we implement our strategic goals," says CEO Bob Fritzinger. "Ed's impressive record of leadership in growth organizations and his background in strategy and partner acquisitions will be a tremendous asset to our company."
Before joining zenhire, Melia served as Senior Partner at HR CyberQuest, Inc, were he was responsible for strategy and operations. He led the design and delivery of human capital management consulting services to Fortune 1000 companies.
Prior to this role, Melia was vice president for Monster.com, where he headed the consulting services, client strategy and training functions. In this role, he assisted clients in understanding and managing change brought on by technology - and applied technology solutions to the human capital management process.
He also served as Managing Director of the talent acquisition and strategies practice for London-based Saville Holdsworth Ltd. Melia has also held executive positions in corporate human resources and executive search.
Ed is an active member of several professionals groups and is past chairman for the Society of Human Resource Management's Pinnacle award-winning Northeast Human Resources Association (NEHRA) Internet Days.
About zenhire, Inc.
zenhire™ simplifies the lives of recruiting professionals by dramatically increasing their productivity through the delivery of effective, integrated tools and services that support every aspect of the Recruiting & Placement function. Visit them today at www.zenhire.com or call 716-639-9674.
###
Contact
zenhire, inc.
Karen M. Doherty
716-639-9674
www.zenhire.com

Contact