Taft Foodmasters Launched the Halal Certified Vegetarian Seasoned Seitan Gyro: a Healthy Fast Food Option
Seitan: It Saves Your Body and the Planet
New York, NY, December 05, 2011 --(
PR.com
)-- To address the growing demand for healthier food options: Taft Foodmasters hosted its first tasting and official launch of the Halal Certified Vegetarian Seasoned Seitan Gyro on November 10th, 2011. The event was held at the luxurious and high-end Sub-Zero and Wolf Manhattan Showroom on the Upper Eastside. Surprisingly, the tasting event attracted over 100+ guests including local press and media.
At approximately 12:30 PM, there was a line of media personnel, restaurateurs, food distributors, food bloggers, magazine editors and invited foodies waiting to get first look and a taste of the highly anticipated delectable. Camera lights were flashing, bloggers were blogging, foodies tasted, and reporters did not miss a beat; all cameras were in focus on "the Vegetarian Seasoned
Seitan
Gyro." Among other local media attendees capturing the meatless tasty story, were Dr. Roger Hanwehr of Transterra Media, correspondent Julia Mineeva of WVBF Boston Radio, T.V Producer Dorothy Dunne of TV35 NY, Liberty TV Online, Cooks.com and lifestyle blogger Alice Chin.
An hour later, the tasting event was in full swing as guests kept arriving… and arriving. It was quite a food and media frenzy as the gyro tasting guests kept Master Gyro Maker, Horace Perkins and his team quite busy. Excitement and buzz surrounded the featured "Halal Certified Vegetarian Seasoned Seitan Gyro," which was also served with other Taft Foodmasters creations including; the delicious white bean salad and complimenting Mediterranean foods. Also on the tasting menu were samplers from Tian at the River Bank, The Long Island Gyro Company and Krunch Pizza Bar.
"People are demanding healthier fast food options, and seasoned Sietan is definitely a healthier choice. It tastes like meat, only better! 100% natural, with no preservatives, it is wheat based (not soy based) with authentic Greek seasonings and made in the USA," says CEO and founder, Jessica Taft. Currently, the seasoned Seitan Gyro has strong international interest including, Canada and India. Local restaurateurs wanting to offer healthier options can add the Vegetarian Seasoned Sietan Gyro to their menu by contacting Taft Foodmasters directly. Foodies and vegetarians are invited to try the gyro, now available at the local restaurants mentioned above.
About Taft Foodmasters:
Taft Foodmasters specializes in food service development of all-natural and nutritious recipes for the fast food/quick service restaurant industry on a wholesale basis. The company was founded by CEO Jessica Taft, who is also the founder and head chef of New York Food Coach. At NYFC Mrs. Taft teaches her clients' healthy recipe lessons and food guidance.
For more info about Taft Foodmasters and the Vegetarian Seasoned Seitan Gyro, please visit: www.taftfoodmasters.com or call 212-644-1974. Look out for Taft Foodmasters at the 2012 International Food Show in NYC at the Jacob Javitz Center.
Media Contact:
Amore
Creative Director of Public Relations & Event Production
Apples & Oranges NY PR
O: 888-371-4718 F: 800-763-1342
Email: amore@applesandorangesny.com
###
Contact
Apples & Oranges NY Public Relations
Amore Leighton Black
888-371-4718
www.applesandorangesny.com

Contact
Multimedia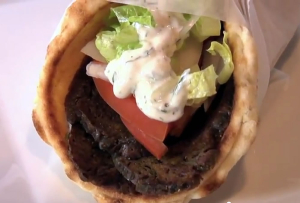 Tastes like meat, only better. 100% natural, with no preservatives. Wheat based (not soy based) with authentic Greek seasonings. Made in the USA. Per 3.5 ounce serving: 220 calories, 28 grams protein, 0 cholesterol.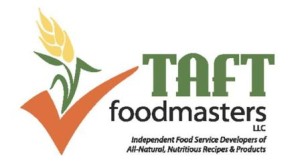 Taftfoodmasters, an independent food service developer of all natural, nutritious recipes and food products for the restaurant trade.