New Bridge Laundromat & Dry Cleaners Opens Its Doors 24 Hours a Day Five Days a Week
New Bridge Laundromat & Dry Cleaners located in Bergenfield, NJ has opened their doors 24 hours, five days a week to better serve their customers.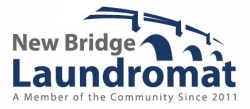 Bergenfield, NJ, December 05, 2011 --(
PR.com
)-- New Bridge Laundromat & Dry Cleaners has opened their doors 24 hours, five days a week to better serve their customers, announces owner Steven Porada.
As the owner, Steven Porada is always talking with customers, looking for feedback as to how he can make their laundromat experience, a better one. One of the most frequent requests he got was to open the store earlier or keep it open later. The laundromat used to open at 7 am and would close its doors at 10:30 pm with the last wash at 9 pm. When customers told him to extend his hours he would jokingly say "I might as well be open 24 hours," and that is exactly what happened.
New Bridge Laundromat used to open its doors at 7 am which did not leave customers enough time in the morning to do laundry, get the kids to school and make it to work on time. Now that this laundromat is open 24 hours a day, five days out of the week, customers have the option of coming in at 5 am or 6 am, spending two hours on laundry, and still having enough time to drop their children off at school and make it to work - an option many customers now prefer.
For those who prefer doing laundry in the evening, the last wash time was not always convenient either. They would explain that by the time they got home from work, ran errands, cooked, cleaned, ate dinner, helped the kids with their homework and put them to bed it was already 9 pm or 10 pm, and they had missed the last wash. With the store now open 24 hours starting Thursday night and going into Friday, Saturday, Sunday, and Monday into Tuesday morning, there is no last wash and they can get all of their duties done, including laundry.
In the past, patrons were only able to make it to the laundromat on Saturday or Sunday because their busy schedules did not allow for them to come during the week. With the extended hours, the bottleneck that usually occurs before the last wash and the over crowding that occurs on Saturday and Sunday has almost been eliminated. Now that customers have the option, they come early in the morning or late in the evening during the week and free up their weekends for quality time with their families.
###
New Bridge Laundromat & Dry Cleaners is a local, family owned business that caters primarily to the Bergenfield, NJ community and surrounding towns of Englewood, Dumont, Teaneck, Tenafly, Bogota, & New Milford. They provide residents of these towns with a clean, comfortable, convenient, and affordable place to get their laundry and dry cleaning done. For more information you can visit their website at
www.NewBridgeLaundromat.com
Contact
New Bridge Laundromat & Dry Cleaners
Steven Porada
201-338-4040
www.NewBridgeLaundromat.com

Contact