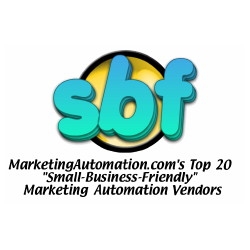 Chino Hills, CA, December 18, 2011 --(
PR.com
)-- MarketingAutomation.com released a report today listing their Top 20 List of "Small-Business-Friendly Vendors." There are thousands of people with small businesses today wading through an ocean of enterprise solutions who want little to do with them. Many
marketing automation vendors
are "small-business-unfriendly" for the following reasons.
- They do not have clear pricing on their web sites and force you to search or inquire about pricing.
- They don't offer free trials or demos.
- Their start up fees and prices are prohibitive to small businesses.
- Their web sites are not clear and they provide very little user education.
Joe Martinico, the list's Publisher points out, "If we look at their reasons (most marketing automation vendors), I suspect that they are primarily interested in bigger customers. That's fine for them. But we must demand more and make our decisions for our own reasons. So we looked at over 70 marketing automation vendors and disqualified those whose web sites were out of date, out of business, out of touch, or out in space, and then we prioritized the rest.
People with small but growing businesses don't have time to wade through 70 web sites or talk to 70 salespeople to find the best marketing automation providers." He continued, "So, Small-Business-Friendly Vendors need to have clear pricing easily available on their web site. That's number one! If they have that, they make the next cut."
After that, they look for reasonable pricing and terms. They also consider contracts and start-up fees. Many providers offer free services for beginners, which Martinico thinks is a smart idea because it's easy for users to get hooked on a solution once they see the power of marketing automation. But most important, he pointed out, "Free services for beginners is 'small-business-friendly.'"
There are a few vendors which are open source projects and free as well, some of those are included as long as they are well maintained and actively developed. Those that make the cut (The Top 20) are then listed in alphabetical order on the list.
The matrix represents vendors who espouse these simple premises so small business owners can save time deciding on offers and learn about marketing automation in minimal time. The report is free. To get a copy, visit http://MarketingAutomation.com and request it from the Contact Page.
About MarketingAutomation.com
MarketingAutomation.com provides current information, tips, and ideas for small and medium sized businesses who want to automate their sales and marketing functions. Although it is one of the most valuable business processes to automate, it often is the most difficult. MarketingAutomation.com's Top 20 List of "Small-Business-Friendly" Vendors allows small business owners to save hours of research to find great marketing automation software providers.
###