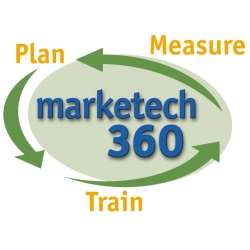 West Dennis, MA, February 22, 2012 --(
PR.com
)-- Trade show and corporate event marketers now have complete control over the capture and reporting of performance metrics and trade show ROI, thanks to a new and innovative approach to measurement now available from
marketech360
. Set for unveiling at EXHIBITOR2012, "
Dashboard Made Easy
" is a simple-to-use and affordable measurement tool that helps exhibitors identify and communicate the value and results they deliver from their exhibiting program.
Recognized as part of the EXHIBITOR2012
New Product Showcase
and eligible for this year's Buyers' Choice Award, "Dashboard Made Easy" measures everything from cost per contact and cost per lead to cost per person reached through hospitality events and cost per impression for sponsorships. This latest offering from marketech360 will be available for purchase at EXHIBITOR2012 or online through the marketech360 web site. The cost is $1,500, plus a $20 per year hosting fee.
"The great thing about 'Dashboard Made Easy' is that it puts the exhibit professional in complete control of their performance metrics," said Marc Goldberg, founder and partner for marketech360. "The user decides what metrics to track and then conducts the measurement, inputs the data, and completes the metric calculations with the click of a mouse."
Goldberg went on to say that "Metrics can be recorded, stored and displayed by event, year or product category. Results can be shared with internal stakeholders and management, and provide an important foundation for fact-based decision making and continuous improvement."
EXHIBITOR2012 will be held Mar. 4 through Mar. 8 at the Mandalay Bay Convention Center in Las Vegas. Produced annually, the conference and exhibition attracts thousands of exhibit and event marketing professionals from around the world. A marketech360 exhibit (#1535) will be part of the EXHIBITOR2012 exhibition, and company representatives will be available to discuss all of marketech360's product and service offerings. In addition, representatives from marketech360 will present various educational sessions over the course of the five-day event.
"We hope EXHIBITOR2012 attendees put us on their 'must see' list and come by our exhibit to take a tour of this new and innovative product," said Goldberg. "'Dashboard Made Easy' is just one way marketech360 can help EXHIBITOR2012 participants and others in their quest to experience performance improvement."
About marketech360
The leader in exhibit and event performance improvement for more than 25 years, marketech360 offers a full range of customized, timely and affordable trade show staff training, performance measurement, and event staffing services and products that improve the results exhibitors achieve through their trade show marketing activities. Based in West Dennis, Mass., marketech360 clients range from Fortune 100 companies to small start ups and their offerings are appropriate for exhibitors in all industries. For more information, visit
www.marketech360.com
###