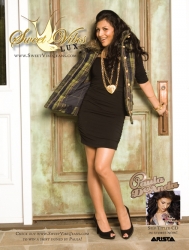 San Rafael, CA, June 06, 2007 --(
PR.com
)-- Sweet Vibes Lux, a select label of the larger urbanwear brand VibesBase Enterprises, signed with seventeen year old pop/r&b teen sensation, Paula DeAnda, to star in their Fall/Holiday 2007 ad campaign. DeAnda's style is a perfect compliment to the urban, hip hop lifestyle represented by Sweet Vibes Lux. The ad campaign will feature DeAnda styled in Sweet Vibes apparel and photographed by Aliya Naumoff. Naumoff has photographed other well known artists such as Nelly Furtado, Iggy Pop, Jonathon Rhys-Meyers and the Yeah Yeah Yeahs.
Sweet Vibes Lux meets the female demand for stretch denim and casual sportswear in the urban scene, especially with the hip hop influence in today's media. Sweet Vibes designs reflect the necessity of jeans in one's wardrobe. Whether the Sweet Vibes Lux consumer wears strappy heels or sporty sandals, she radiates confidence and good times.
DeAnda's debut single "Doing Too Much" introduced the world to her musical talent. Signed on the spot at her audition with Clive Davis last year at the young age of 16, DeAnda's self-titled Arista debut has sold over 1.7 digital singles and ringtones, and over 214,000 albums. A huge MySpacer, Paula has over 311,000 friends at MySpace, and is the #2 Most Searched Latin artist on the site. The breakthrough video for "Walk Away" debuted in the Top 10 on MTV's Total Request Live and remained in the Top 20 at Yahoo! Music for over 3 months after its December worldwide debut. Fans can visit www.PaulaDeanda.com, her newly revamped website, where they can create their own profile, message with other fans, share photos, tour reviews, and enter a music contest.
LicenZing LLC, the PR agency for Sweet Vibes, was instrumental in selecting and signing DeAnda for the upcoming Fall/Holiday 2007 campaign. LicenZing's Creative Director, Kat Ryan, knew the partnership would be ideal. "Paula has Sweet Vibes written all over her, her hip hop style and edge were perfect for the Sweet Vibes brand which she wore beautifully, plus her voice is incredible!"
###