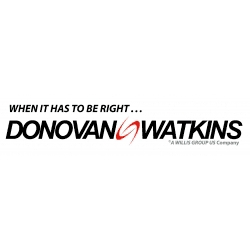 Houston, TX, June 19, 2007 --(
PR.com
)-- Willis Group Companies announces that Bryant Miller has accepted the offer to be Managing Partner of Donovan & Watkins, LLP. "Willis Group is very pleased that Bryant Miller accepted the position of Managing Partner of Donovan & Watkins; we feel that Bryant will be a valuable addition to our Donovan & Watkins subsidiary. His experience in process development and implementation will give Donovan the market edge that will create a formidable competitor in the Houston staffing market. I am extremely excited about the vision of the Willis Group Companies and the addition of Bryant will bring us one step closer to our goals," stated Mark Willis President and CEO of Willis Group.
Miller comes to Donovan from Kforce Professional Staffing, where he was Managing Director of 5 Market Managers, 24 Account Managers, and Recruiters in 4 Divisions. Miller was responsible for running the day to day operations of the offices that provided contract and permanent IT, Finance and Accounting solutions in the Houston, Bartlesville, and Tulsa areas.
About Willis Group Companies
The Willis Group mission is to become Houston's one source for human resources and interim staffing by providing immediate, effective staffing solutions that keep pace with the markets ever changing opportunities. Their diverse group of companies enables us to facilitate locating the majority of clients staffing needs. They are committed to the excellence of their employees in order to assist customers in achieving their corporate growth and increased profitability. Their companies consist of Donovan & Watkins (Admin, Clerical, Legal, Accounting, and Finance Staffing), EnSTREAM GLOBAL (Engineering & Technical Staffing), Facilitek Services (Information Technology), and SEIS STRAT (Engineering & Geoscience Consulting).
About Donovan & Watkins, LLP
Donovan & Watkins has represented exceptional candidates to Houston's finest firms since 1982. Their primary objective is to assist you in meeting your critical demand for qualified full-time and temporary personnel. They specialize in staffing the following industries: clerical and administrative; legal; accounting and finance; as well as other professional positions. They concentrate on learning your company's unique requirements and matching those needs with the skills and experience of the appropriate support professional.
###